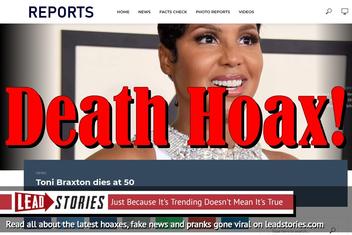 Did singer Toni Braxton die aged 50 Nope, she did not die, that's fake news. The story that she passed away is not true and originated on a website that is part of a network of known fake news sites.
The article proclaiming Braxton's death was published by a site calling itself "Reports" under the URL breaking-cnn.com and was titled "Toni Braxton dies at 50 - News Reports" (archived here) which opened:
American singer Toni Braxton has died after been rushed to hospital on Tuesday night for feeling "unresponsive" at home, family tells the media.

According to the family's spokesperson Anita Arthur, the cause of her death is not immediately known as the family awaits an autopsy report.

Braxton was hospitalized in 2016 due to complications with her lupus which led her to postpone Cleveland show.

Braxton revealed in 2011 that she was living with lupus, a chronic autoimmune disease that causes inflammation in the sufferer's internal organs, joints and skin. She also appeared on "The Dr. Oz Show" in 2013 to talk about her diagnosis.

Her sister Traci Braxton who was kicked out of her upcoming tour "Sex and Cigarettes" solo tour amid family feud, said the singer "showed no sign of illness and never complained of Lupus".
While it is true Braxton suffers from lupus the news of her death is not true: it was not reported anywhere by reputable publications and her official Twitter account and Facebook page made no mention of the singer passing away.
We wrote about breaking-cnn.com before, they were recently involved in at least two other death hoaxes:
The IP address associated with the website (23.229.190.72) appears to be also used by several other sites in a network of fake news websites that all have normal looking front pages with some generic news stories taken from other websites but which frequently publish hoax articles on other parts of the site that aren't immediately obvious to visitors. These stories frequently are death hoaxes about celebrities or other well known people that have been reported as being in the hospital by mainstream news sources. Some sites we've identified as part of the network include: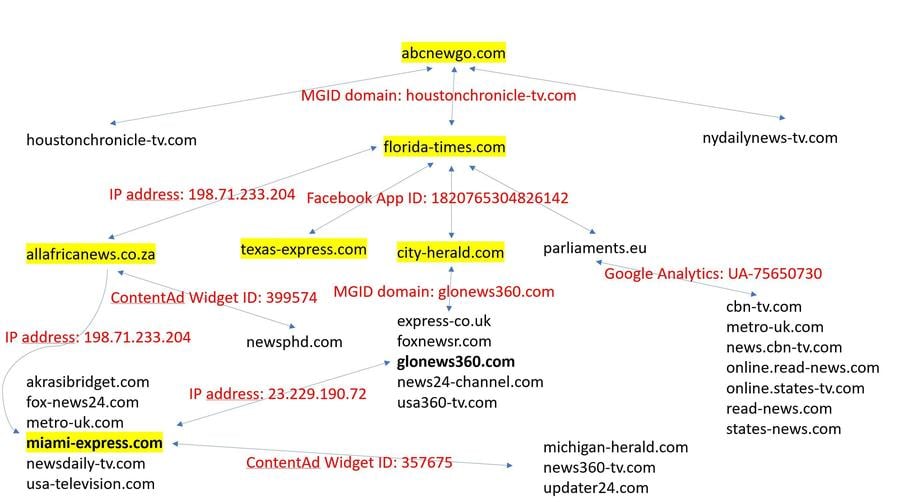 We wrote a longer exposé about that network here if you are interested in reading more about the kinds of tricks and tactics used by this network.