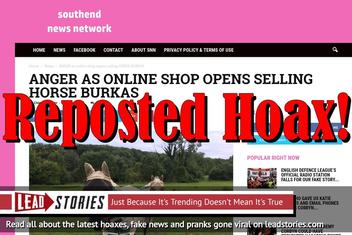 Is an online shop selling horse burkas and other religious apparel for pets and farm animals? Nope, that's not true, totally false and not even real. The old hoax was reposted by Facebook page U OK Hun today:
The linked story was an article published on August 7, 2017 from satire website Southend News Network titled "ANGER as online shop opens selling HORSE BURKAS" (archived here) which opened:
Members of the public have reacted with anger after an online store opened selling HORSE BURKAS and a number of other items of religious clothing aimed at farm animals.

Al-Dobin Farmwear has been trading officially since July 1st 2017, and its founder Owzat Duya told Southend News Network that he was responding to 'huge demand' for the clothing.

He said: 'I have been running a market stall for a number of years selling religious clothing, and since the start of 2017 I have had a number of requests for custom-made items of religious clothing for animals.'

'The horse burka is my most popular item, but we are very much a multi-faith enterprise.'
But Snopes already debunked this hoax in 2017:
An online store is offering "horse burkas" so Muslim equestrians can clothe their pets in keeping with religious custom. False On 7 August 2017, the satirical web site Southend News Network posted a story reporting that an online store was selling " burkas " (clothing that covers a woman's entire body and are worn in some predominantly Muslim communities) for horses.
The horses in the picture are merely wearing fly sheets and protective masks to avoid irritation from dust or insects. While you can indeed buy these kinds of items online they do not have a religious significance:
Protect your horse from biting flies with this perfect hood for turnout. Choose this mesh fly mask to protect your horse from summer's pesky bugs. The
The "U OK Hun?" Facebook page is associated with the (now no longer active) website uokhun.uk which has been using the same Adsense account ("ca-pub-7034506530409822") as the Southend News Network. So it looks like the owners are trying to build up an audience and traffic on the page by reposting some of their old stories there.
The Southend News Network is a satirical site pretending to be a news organisation by the English coast in Southend. They have a disclaimer on their about page that reads (in part):
Southend News Network was originally started in October 2015 with no real aims or objectives in mind other than to add a satirical/spoof-like touch to issues that people are passionate about in Southend On Sea. Above all else, SNN is all about having the occasional 'dig' at the powers that be, as well a slightly bigger and more frequent 'dig' at certain elements of local media!
Several of their stories have been mistaken for real news in the past and the site was recognized by the local authorities as an "official news outlet".
We wrote about southendnewsnetwork.net before, here are our most recent articles that mention the site: