STORY UPDATED: check for updates below.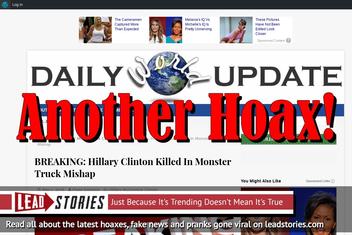 Was Hillary Clinton killed at the Chappaqua Motor Speedway in upstate New York by a monster truck called "Big Blue Bernie Or Buster"? No, that's not real, it appeared on a site that caters to the fantasies of conservatives and Trump supporters by publishing fake stories under the guise of satire so they can then be mocked if they fall for them. The site and the network behind it have published several Hillary Clinton death hoaxes in the past.
The latest story originated from an article published on May 2, 2018 on Daily World Update and was titled "BREAKING: Hillary Clinton Killed In Monster Truck Mishap" (archived here) which opened:
Hillary Clinton was sitting with friends and her daughter, Chelsea, at the Chappaqua Motor Speedway in upstate New York earlier this evening when 11 tons of American steel and irony jumped the rails, injuring thirty-five people and killing Clinton.

The machine, the Big Blue Bernie Or Buster, is a modified Jeep CJ-7. The right rear shock, with a diameter of 40 inches and weighing 403 pounds, imploded Clinton's head at approximately 14 miles per hour. The coroner said it would have been a solid minute of excruciating pain combined with a cognitive awareness that your head was about to be crushed like a grape.
The social media summary of the post did not indicate it was fake:
This is just horrible.
But there is no motor speedway at Chappaqua and most of the links in the story go to Google searches for phrases indicating site readers are idiots. The link to "the driver" pointed to a picture of actor John Schneider in character as Bo Duke from tv series "The Dukes of Hazzard" at the wheel of the iconic "General Lee" Dodge Charger from the show.
The site comes with a clear satire disclaimer at the bottom of each article:
sat·ire ~ˈsaˌtī(ə)r
noun
the use of humor, irony, exaggeration, OR ridicule to expose and criticize people's stupidity or vices, particularly in the context of contemporary politics and other topical issues.
If you disagree with the definition of satire or have decided it is synonymous with "comedy," you should really just move along.
The owner and main writer of the site is self-professed liberal troll Christopher Blair, a man from Maine who has made it his full time job to troll gullible conservatives and Trump supporters into liking and sharing his articles. He runs several other websites, including potatriotpost.us, dailyworldupdate.us and nofakenewsonline.us. Sometimes he is also known under his nickname "Busta Troll". A second man working on the sites is John Prager as revealed in this earlier story we wrote.
Articles from Blair's sites frequently get copied by "real" fake news sites who often omit the satire disclaimer and any other hints the stories are fake. Blair has tried to get these sites shut down in the past but new ones keep cropping up and he keeps knocking them down.
If you see one of his stories on a site that does not contain a satire disclaimer, assume it is fake news. If you do see the satire disclaimer it is of course also fake news.
We wrote about dailyworldupdate.us before, here are our most recent articles that mention the site:
2018-05-02T09:03:37Z

2018-05-02T09:03:37Z