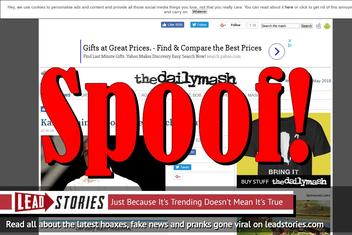 Did Kanye West claim that Cadbury's Boosts are the best chocolate bars of all time? No, that did not happen. The claim that West said this originally came from a satire website, it is not true.
The fake quote originated from an article published on May 2, 2018 by The Daily Mash titled "Kanye claims Boosts are best chocolate bar" (archived here) which opened:
RAPPER and dickhead Kanye West has claimed Cadbury's Boost is the best chocolate bar of all time.

West, who is known for his argumentative manner and deliberately antagonistic opinions, claims Boosts are the greatest chocolate bar even though intelligent people know they are claggy and difficult to chew.

He said: "Fuck Wispas, fuck Mars Bars and fuck those wafer-ass Kinder Buenos. I'm all about Boosts.
Perhaps the word "dickhead" in the summary of the story visible on social media indicated something was not right about this story:
RAPPER and dickhead Kanye West has claimed Cadbury's Boost is the best chocolate bar of all time.
The chocolate bar in question is not on sale in the United States so it is unlikely West would have an opinion on it:
Boost is a brand of chocolate bar currently manufactured by Cadbury. The bar is sold in the United Kingdom, Ireland, Australia, New Zealand and South Africa by Cadbury Ireland and UK. The wrapper says that it consists of milk chocolate with a caramel and biscuit filling.
And The Daily Mash is a satirical website from the U.K. which sports following disclaimer on its about page:
About the Daily Mash

The Daily Mash is a satirical website which publishes spoof articles, i.e. it is all made-up and is not intended, in any way whatsoever, to be taken as factual. Glad we've got that sorted.
Their articles are generally quite funny but now and then they get interpreted as real news. And given Kanye West's recent spate of surprising statements some people may very well have believed this one was real too:
Kanye West Stirs Up TMZ Newsroom Over Trump, Slavery, Free Thought Kanye West just told the TMZ newsroom why he believes slavery is a choice and why he decided to sport his "Make America Great Again" hat ... and it all went down Tuesday morning on " TMZ Live."
We wrote about thedailymash.co.uk before, here are our most recent articles that mention the site: