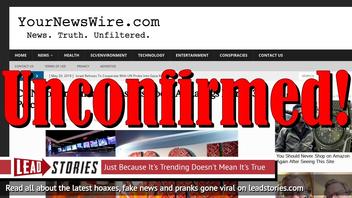 Is CNN permanently closing its doors after a ratings plunge of 30%? No, that's not true: the "news" comes from a website that habitually takes bits and pieces of real news articles and then adds a false or exaggerated headline to it in order to attract clicks and advertising money.
The CNN story originated from an article published on May 18, 2018 by YourNewsWire titled "CNN To Permanently Close Its Doors As Ratings Plunge 30 Percent" (archived here) which opened:
CNN is on the verge of permanently closing its doors after its ratings collapsed even more than last week, falling a staggering 30 percent in the second week of May.

While Fox News increased its total viewers by a healthy 6 percent and MSNBC held steady, CNN's viewership took a nosedive, signalling that the failing news network may be about to come to an abrupt end.

Breitbart.com reports: While no one in the media want to talk about it, CNN's relentless fake news sprees have not only created a massive credibility problem for the hate network, the far-left cable channel's ratings crisis is even more severe.
The Breitbart article it links to accurately describes the Adweek numbers:
Before we get to the numbers, I should add that CNN is an outlier; meaning its stunning ratings collapse is unique in cable news. Compared to this same week last year, Fox News its total viewers in primetime and total day by +6 and +3 percent, respectively.
For the full 7-day week of May 7 2018, Fox News was the most-watched basic cable network in total day (18th straight week), the second-most-watched basic cable network in prime time, and a top 5 basic cable network among adults 25-54 in both of the aforementioned dayparts.
But neither report has any information about CNN permanently closing down. In fact, even with the heavy losses in viewership for CNN:
All three cable channels finished in the Top 10 in total day viewers, with Fox News No. 1, MSNBC No. 3 and CNN No. 7.
It wouldn't make financial sense to shut down a network under those circumstances. And news about it definitely wouldn't be reported first by YourNewsWire.
YourNewsWire has published several hoaxes and fake news articles in the past so anything they write or publish should be taken with a large grain of salt. Their Facebook page "The People's Voice" recently lost its verification checkmark according to a report from MMFA.
The Terms of Use of the site also make it clear they don't really stand behind the accuracy of any of their reporting:
THE PEOPLE'S VOICE, INC. AND/OR ITS SUPPLIERS MAKE NO REPRESENTATIONS ABOUT THE SUITABILITY, RELIABILITY, AVAILABILITY, TIMELINESS, AND ACCURACY OF THE INFORMATION, SOFTWARE, PRODUCTS, SERVICES AND RELATED GRAPHICS CONTAINED ON THE SITE FOR ANY PURPOSE.
The site was profiled in the Hollywood reporter where it was described as:
Your News Wire, a 3-year-old website of murky facts and slippery spin, is published by Sean Adl-Tabatabai and Sinclair Treadway -- a Bernie Sanders supporter in 2016 -- out of an apartment in L.A.'s historic El Royale.
RationalWiki described it as:
YourNewsWire (styled as YourNewsWire.com[1]) is an Los Angeles-based clickbait fake news website known for disseminating conspiracy theories and misleading information, contrary to its claimed motto ("News. Truth. Unfiltered").[1]
A while ago we also reported that YourNewsWire had rebranded itself as NewsPunch by changing its domain name in an apparent effort to evade filtering/blocking. It appears the site has changed back to it's old name in the mean time but you can still see the NewsPunch name in the contact email address in the footer.
We wrote about yournewswire.com before, here are our most recent articles that mention the site: