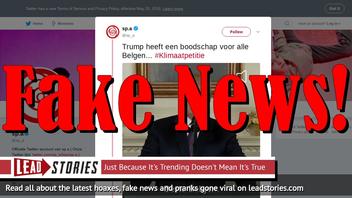 Did President Donald Trump mock Belgium for not getting out of the Paris Climate Agreement? A video that seemed to show just that was faked by the Belgian political party SP.a ("Socialistische Partij, anders", translated: "Socialist Party, different") to promote a petition campaign urging the Belgian government to take more climate measures.
On May 20, 2018 the official twitter account of the party posted following tweet:
Trump heeft een boodschap voor alle Belgen... #Klimaatpetitie pic.twitter.com/Kf7nIaDOKj

-- sp.a (@sp_a) May 20, 2018
(tweet archived here, video here)
The tweet read: "Trump has a message for all Belgians... #climatepetition".
In the video "Trump" can be heard saying:
Dear people of Belgium, this is a huge deal. As you know I had the balls to withdraw from the Paris Climate Agreement, and so should you. Because what you guys are doing right now in Belgium is actually worse. You agreed, but you are not taking any measures, only bla bla bla bing bang boom. You even pollute more than before the agreement. Shame! Total Shame! At least I am a fair person. People love me because I am a fair person. I'm the fairest person on Earth. So Belgium, don't be a hypocrite: withdraw from the Climate Agreement. We all know that climate change is fake... just like this video.
Right at the end of the video the Dutch subtitles end and the audio volume drops noticeably so the part where "Trump" says the video is fake remains untranslated for the Belgian audience. Captions then urge people to go sign a petition demanding more action.
According to polls the SP.a is the third largest political party in the Dutch speaking part of Belgium. They are currently not part of any of the regional or national governments of Belgium (with the exception of the Brussels regional government) but they have often been a major force in Belgian politics in the past.
The use of such a video in a political campaign looks similar to the kind of deepfake political videos BuzzFeed was warning about last month:
Don't be embarrassed if you were fooled, even if only briefly. Technology to trick our eyes and ears is advancing rapidly. Teams in Germany are working on Face2Face, the type of face- and voice-swapping technology used to create the video above.
Although the production value of the fake Trump video is way lower than the faked Obama video produced as an example by BuzzFeed: