STORY UPDATED: check for updates below.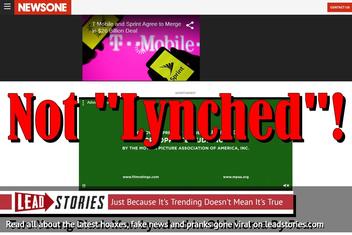 Were Ramon Smith and Jarron Moreland, both 21, "lynched" by four white men on April 14, 2018? That's not exactly true: the word "lynched" invokes visions of white hoods, burning crosses and an angry mob stringing up people. In reality the two men were killed by one person during a botched firearms sale.
An article published on May 2, 2018 by NewsOne went viral with the headline "Two Young Black Men Lynched In Oklahoma By Four Whites And It's Getting No Media Attention" (archived here) which opened:
When people talk about modern lynchings, R. Kelly and Bill Cosby are not legitimate examples. Ramon Smith and Jarron Moreland, both 21, are two men who were lynched in 2018. On April 18, police found the dismembered bodies of the young men in a pond outside of Oklahoma City, Oklahoma. Three white men and one white woman have been arrested for the crime.

According to WJLA.com, "Police arrested 22-year-old Kevin Garcia-Boettler, 43-year-old Johnny Shane Barker and the 16-year-old brother of Garcia-Boettler, who police say is the suspected shooter. Their mother, Crystal Rachelle Boettler, 40, has also been charged with accessory after the fact." According to court records, "on April 14, Garcia-Boettler drove his brother to meet the two victims because he believed his brother was going to purchase a gun from Moreland. The sale was arranged through Craigslist and the two parties agreed to meet in a nearby grocery store parking lot. Garcia-Boettler told police that Moreland got out of a sedan and into the back seat of his van. He claims that he heard a gun "rack" and told police he witnessed his brother open fire killing the two men."
Lynching is usually defined as:
Lynching is a premeditated extrajudicial killing by a group. It is most often used to characterize informal public executions by a mob in order to punish an alleged transgressor, or to intimidate a group.
A man killing two other men during a meeting to purchase a gun does not seem to fit that definition. Note that the original news report only speaks of one shooter, the others helped dispose of the bodies by cutting them to pieces and throwing them in a pond. Those are horrible things to do but that doesn't make it a "lynching".
The confusion about whether it was a "lynching" likely stems from the original news report quoted by NewsOne:
Three white men have been arrested in connection to the brutal murders of a two young black of men outside Oklahoma City.Ramon Smith and Jarron Moreland, both 21, were reported missing on April 14. Family and friends hung missing persons posters around the
That article had following sentence in it:
On Twitter, journalist Shaun King called this incident a "modern day lynching."
Just calling Shaun King a journalist leaves out some crucial bits of info:
Jeffery Shaun King (born September 17, 1979) is an American writer and civil rights activist. He is noted for his use of social media to promote religious, charitable, and social causes, including the Black Lives Matter movement. He is a political commentator for The Young Turks .
In that context it is easy to see that the tweet being referenced is not taking a neutral point of view:
This literally appears to be a modern day lynching.

These 2 men, and 1 other, abducted 2 young Black men from a grocery store parking lot in Moore, Oklahoma.

Then shot & killed them.

Stripped them naked. Burned clothes.

Took them to a pond & tied their bodies to cinder blocks pic.twitter.com/m7m0Sq03X5

-- Shaun King (@ShaunKing) April 26, 2018
That tweet doesn't accurately describe what happened according to the police report. There was no abduction and the charges for the arrested men read:
According to court documents, the teen is charged with first-degree murder, second-degree murder, unlawful removal of a dead body, desecration of human corpse and possessing a firearm after delinquent adjudication. Garcia-Boettler is charged with accessory after the fact and unlawful removal of a dead body. Barker, is charged with accessory after the fact, unlawful removal of a body and desecration of a human corpse.
So, only one killer and the others helped move/cut/dispose the bodies. Terrible people, terrible crime, but no lynching.
2018-05-04T09:41:24Z

2018-05-04T09:41:24Z

After reader comments the sentence "So, only one killer and the others just helped move/cut/dispose the bodies" was changed to "So, only one killer and the others helped move/cut/dispose the bodies". "Just" helping move/cut/dispose bodies can be understood to imply that it is not a big deal. It obviously is a terrible thing to do. Our intention with that sentence was to make it clear that they didn't do the killing, which can be done just as well without the "just".