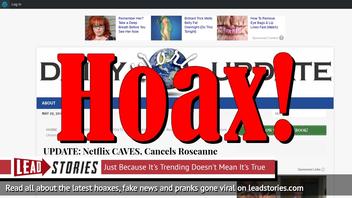 Recently a fake story started circulating that Netflix picked up Roseanne after it was cancelled following a racist tweet sent out by the show's star. And now a followup fake story claims Netflix cancelled it after a phone call from Obama. Both stories are not true.
The initial fake story was published earlier today by Daily World Update:
Just hours after being canceled for a joke that all conservatives thought was funny, Roseanne's reboot was picked up by Netflix. The move, which Guinness reports is the shortest ever time from cancelation to a new contract, comes with only one stipulation.
The only true part was the cancellation by ABC:
CNBC's Julia Boorstin reports on ABC's decision to cancel "Roseanne" after offensive tweets made by Roseanne Barr.
And now a second article was published by the site on May 29, 2018 titled "UPDATE: Netflix CAVES, Cancels Roseanne After 'A Phone Call From Obama'" (archived here) which opened:
As you've probably heard because it's all over the news, Netflix "slapped liberals in the face" as one journalist at Breitbart put it by almost immediately picking up Roseanne after it was canceled by ABC. But before you celebrate, make sure to get all the facts straight.

While Netflix initially announced the new acquisition in a deleted tweet, that tweet was deleted for a reason. According to Jason Scott, a manager at the streaming giant, the plan to pick up Roseanne "was a good idea, but it was scrapped almost immediately after a phone call from Obama."

Scott says that Netflix President Thomas Williams received a phone call from the former President "almost as soon as the tweet went out" urging him to change his mind. And change his mind he did!
A second site run by the same people already debunked the hoax, saying it was satire and pointing out the many hints that it was fake:
The world of social media is in a tailspin today as conservatives and liberals sharpened their keyboards for the battle of Roseanne's cancelation. It was sure to be a grand time, with liberals celebrating the consequences of racism and conservatives refusing to understand what racism truly means and that it does, in fact, exist.
That story ended with a paragraph critical of Snopes, with whom the owner of the site has a longstanding disagreement:
If you'd like an alternate version of this story and why it was posted, visit Snopes in a couple of hours. They'll have yet another hit piece about what fakey-fake news this is without bothering to mention things like the links, categories or author. They get far more shares if we're monsters and not satirists with a purpose.
The site Daily World Update comes with a clear satire disclaimer at the bottom of each article:
sat·ire ~ˈsaˌtī(ə)r
noun
the use of humor, irony, exaggeration, OR ridicule to expose and criticize people's stupidity or vices, particularly in the context of contemporary politics and other topical issues.
If you disagree with the definition of satire or have decided it is synonymous with "comedy," you should really just move along.
The owner and main writer of the site is self-professed liberal troll Christopher Blair, a man from Maine who has made it his full time job to troll gullible conservatives and Trump supporters into liking and sharing his articles. He runs several other websites, including potatriotpost.us, dailyworldupdate.us and nofakenewsonline.us. Sometimes he is also known under his nickname "Busta Troll". A second man working on the sites is John Prager as revealed in this earlier story we wrote.
Articles from Blair's sites frequently get copied by "real" fake news sites who often omit the satire disclaimer and any other hints the stories are fake. Blair has tried to get these sites shut down in the past but new ones keep cropping up and he keeps knocking them down.
If you see one of his stories on a site that does not contain a satire disclaimer, assume it is fake news. If you do see the satire disclaimer it is of course also fake news.
We wrote about dailyworldupdate.us before, here are our most recent articles that mention the site: