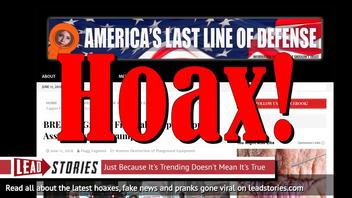 Was Jake Tapper fired by CNN for assaulting Eric Trump? No, that's not true, the news was made up by a site that invents satirical fake news stories in order to get less intellectually gifted people (generally of right-wing persuasion) to share them without thinking or checking. Supporters and fans of the site then mock them for it. The story is not real, it did not happen
The story originated from an article published by Daily World Update on June 11, 2018 titled "BREAKING: CNN Fires Jake Tapper For Assaulting Eric Trump" (archived here) which opened:
Jake Tapper made a huge mistake last night when he lost his temper and pushed Eric Trump. Trump's Secret Service detail quickly detained Tapper, but he was released because Eric was too classy to press charges.

That doesn't mean Tapper got away scot-free, however. CNN sent him packing this morning, as pictured in the image above, escorted by armed guards. CNN Executive Producer Art Tubolls hasn't made a public statement, but his office did send an email to all CNN employees, which we've obtained a copy of:

TO: All Employees

FROM: EP Tubolls

I am sad to inform you that we had no choice but to terminate the contract of Jake Tapper for violating the code of conduct therein. His actions of Sunday evening were beyond unprofessional. That being said, we wish jake well in his new career, whatever that may be.

Art.

.
Users on social media only saw this title, description and thumbnail:
IMAGE: Tapper being escorted out by armed guards.
The site comes with a clear satire disclaimer at the bottom of each article:
sat·ire ~ˈsaˌtī(ə)r
noun
the use of humor, irony, exaggeration, OR ridicule to expose and criticize people's stupidity or vices, particularly in the context of contemporary politics and other topical issues.
If you disagree with the definition of satire or have decided it is synonymous with "comedy," you should really just move along.
The owner and main writer of the site is self-professed liberal troll Christopher Blair, a man from Maine who has made it his full time job to troll gullible conservatives and Trump supporters into liking and sharing his articles. He runs several other websites, including potatriotpost.us, dailyworldupdate.us and nofakenewsonline.us. Sometimes he is also known under his nickname "Busta Troll". A second man working on the sites is John Prager as revealed in this earlier story we wrote.
Articles from Blair's sites frequently get copied by "real" fake news sites who often omit the satire disclaimer and any other hints the stories are fake. Blair has tried to get these sites shut down in the past but new ones keep cropping up and he keeps knocking them down.
If you see one of his stories on a site that does not contain a satire disclaimer, assume it is fake news. If you do see the satire disclaimer it is of course also fake news.
We wrote about americaslastlineofdefense.org before, here are our most recent articles that mention the site: