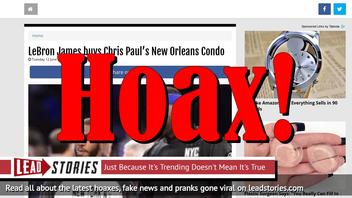 Did LeBron James buy the New Orleans condo of his good friend Chris Paul? No, that's not true: a story that claimed he did appeared on a prank website but it mentioned no source and no author. It did not happen, the story is not real.
The prank story appeared in an article published on or around June 12, 2018 by Trend News titled "LeBron James buys Chris Paul's New Orleans Condo" (archived here) which opened:
In some respects you should feel sorry for the Golden State Warriors. They've just won a second straight championship, their third in four years, and yet they're nowhere near the biggest story in the league. Enjoy the parade, Warriors, just don't be offended if our attentions are elsewhere: LeBron James may well be on the move.

After all, someone wins the NBA finals every year - and sometimes it's not even the Warriors. But it's a much rarer occasion that the Best Player In The Game (And Possibly Of All Time) is facing free agency.
The news supposedly came from "an insider of the New Orleans real estate market" but the website Trend News comes with a disclaimer at the bottom of every article that reads:
This website is an entertainment website, jokes are created by users. These are humourous jokes, fantasy, fictional, that should not be seriously taken or as a source of information.
We found no confirmation for this rumor on any reputable website so we're going to have to go with a "false" rating here...
We wrote about trend-news.com before, here are our most recent articles that mention the site: