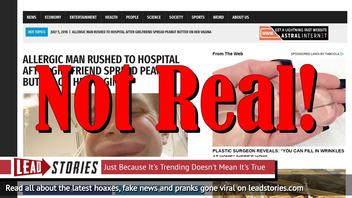 Was 24-year-old Mike Hunt rushed to hospital with a severe allergic reaction on his lips after his girlfriend Jane Lee Hopkins put peanut butter on her vagina in order to punish him for cheating? No, that's not true: the story was originally published by a website specializing in making up stories about bizarre crimes and weird sex acts purely for entertainment purposes. It did not really happen.
The story originated from an article published by World News Daily Report on July 5, 2018 titled "Allergic man rushed to hospital after girlfriend spread peanut butter on her vagina" (archived here) which opened:
Bakersfield, CA | A Californian man is being hospitalized after his girlfriend spread peanut butter on her vagina to punish her cheating boyfriend.

Jane Lee Hopkins, 21, allegedly spread peanut butter on her vagina to teach her boyfriend a lesson after suspecting him of infidelity, fully knowing he had a severe peanut allergy.

Mike Hunt, 24, was diagnosed with a severe peanut allergy since birth and luckily had an EpiPen when his allergic reaction to peanuts became evident moments during sexual intercourse.
The image used to illustrate the article is at least four years old and was posted to Reddit by someone who said it was his friend who took a selfie after getting an allergic reaction:
Friend had an allergic reaction and took a hospital selfie
And the photo of the "girlfriend" is actually taken from a video about a teen from Miami whose photos meant for her boyfriend leaked online:
The website World News Daily Report is a well known satire website specialized in posting hoaxes and made up stories. The disclaimer on their website is pretty clear about that even though you have to scroll all the way down the page to find it:
World News Daily Report assumes all responsibility for the satirical nature of its articles and for the fictional nature of their content. All characters appearing in the articles in this website - even those based on real people - are entirely fictional and any resemblance between them and any person, living, dead or undead, is purely a miracle.
It is run by Janick Murray-Hall and Olivier Legault, who also run the satirical Journal de Mourréal, a satirical site spoofing the (real) Journal de Montéal. Very often their stories feature an image showing a random crazy mugshot found in a mugshot gallery on the internet or on a stock photo website superimposed over a background of flashing police lights or crime scene tape.
Articles from the site are frequently copied (sometimes even months or years later) by varous fake news websites that omit the satire disclaimer and present the information as real.
We wrote about worldnewsdailyreport.com before, here are our most recent articles that mention the site: