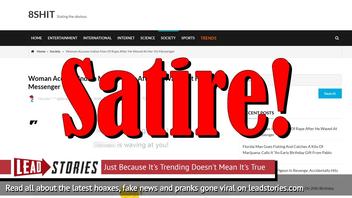 Did 21-year-old Maria Smith sue 36-year-old Dinesh Laghari from India after he "waved" too much at her on the Messenger app and did she accuse him of rape for this? No, that's not true: the story was made up by a "fauxtire" website, it did not happen for real.
The story originated from an article published on July 9, 2018 titled "Woman Accuses Indian Man Of Rape After He Waved At Her On Messenger" (archived here) which opened:
A woman has sued a man because he was "waving too much" at her, local authorities reported. 21-year old Maria Smith has sued the 36-year old Dinesh Laghari because he was harassing her too much on the Messenger application. The man was sued for the sum of 350 thousand US dollars for rape and harassment and is expected to defend himself in court.

"Some friends told me that I should simply block him, because he was asking constantly asking for 'bobs' and 'vagana' and waving at me", said Maria, very angry, to our reporter Gary Cockburn who was in the area. She kept complaining: "I told him to stop but he wouldn't stop, so it was basically like rape", she concluded.
The article does not mention where any of this happened or where the trial is expected to take place. And people generally don't sue their rapists, they go to the police who then investigate and if proof is found they haul the perpetrator to court for prosecution.
Furthermore, 8shit.net carries a disclaimer on its about page that reads:
8Shit is a satire and humor website.

It contains cutting edge satire on a diverse range of topics.

The website publishes fake news, shocking rumors and reports with incisive sarcasm, and humor.

We also post crazy real news which often sounds too good to be true.
And an additional disclaimer in the footer of every page:
8Shit is a satire news and humor website. All its content is fiction (except those posts under the "serious" category) and shouldn't be taken as real. All references, names and marks or institutions in this website are used as contextual elements, like in any novel or science-fiction story.
We wrote about 8shit.net before, here are our most recent articles that mention the site: