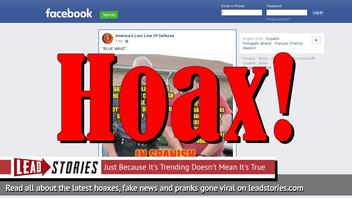 Was the office of Oakland councilman George "Big Boy" O'Dowd raided by police and were thousands of fake social security cards, driver's licenses and voter registration forms discovered, all in Spanish? No, that's not true: the story was made up by a satirical Facebook page that tries to get Republicans and Trump supporters to share fake news so they can be mocked for it by fans of the page. It did not happen, none of it is real.
The meme in question had following text:
Oakland police raided the office of councilman George "Big Boy" O'Dowd, on suspicion of forgery monday.

They found thousands of fake social security cards, driver's licenses, and 2600 voter-registration forms -

In Spanish.
The meme first appeared in a post published on August 21, 2018 on a Facebook page titled "America's Last Line Of Defense" (archived here) with the comment:
"BLUE WAVE".
There is no Oakland councilman named George O'Dowd but that happens to be the real name of singer Boy George:
Boy George was born George Alan O'Dowd at Barnehurst Hospital, Kent, on 14 June 1961, to Irish parents and has four brothers and one sister. George was a follower of the New Romantic movement which was popular in Britain in the early 1980s. He lived in various squats around Warren Street in Central London.
And the picture that made up the background of the meme shows Otto McNab Jr, a bank robber forced by his girlfriend to return the $2000 he stole in 2011:
A bank robber is facing up to five years in jail after his getaway was thwarted by his angry girlfriend who told him to return the stolen money. Otto McNab Jr had fled from a bank with over $2,000 in stolen money.
The Facebook page that first posted the meme has following description on its "about" tab:
About
Nothing on this page is real. It is a collection of the satirical whimsies of liberal trolls masquerading as conservatives. You have been warned.

Impressum
Use the force and the truth shall reveal itself. Just not here. Ever.

Products
Good Old Fashioned Liberal Troll Provided Fantasy presented as comedy to the left and a social experiment to the right. Please don't hurt the Trumpanzees. they'll be gone in a few years back to the shadows from whence they came and we'll be back to trolling Tea Turds.
Don't fall for it!