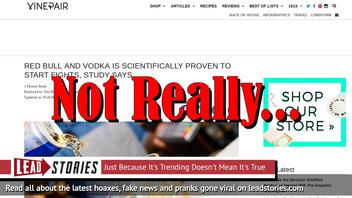 Was the mix of Red Bull and Vodka "scientifically proven" to start fights, according to a study? No, that's not actually what the study says, much less what it "proves".
The story went viral via an article published by VinePair on August 18, 2018 titled "Red Bull and Vodka is Scientifically Proven to Start Fights, Study Says" (archived here) which opened:
Mixing vodka and Red Bull is a popular concoction for those trying to stay alert while drinking.

However, a new study published in the Journal of Psychiatric Research suggests this potent mix compounds the effects of heavy drinking, and increases the "risk of fighting, violence, and participation in risky behaviors."'

In other words, Red Bull vodkas turn people into belligerent bros.
However for something to be scientifically "proven" (if such a thing is possible) one would at least expect the study to have been done on humans (by observation or by experiment, we'll leave that on the table for now). You would not expect a study that only involved tests on fish to be the final proof of something being true for humans as well. If that's the kind of scientific standard you are happy with it would be easy to prove humans couldn't possibly live above water for starters.
Yet the entire VinePair article is based on a report about a single study done on zebrafish.
Don't take our word for it, here is a direct link to the study:
Ethanol (EtOH) is a central nervous system (CNS) depressant drug that modifies various behavioral domains (i.e., sociability, aggressiveness, and memo...
The highlights of the study were represented as:
Taurine affects shoaling behavior in adult zebrafish.
Taurine and ethanol display a temporal effect on zebrafish shoal cohesion.
Ethanol associated with high taurine concentrations decreases social preference.
Taurine potentiates ethanol-induced reduction in risk assessments.
Now, all of these effects were only studied and documented for zebrafish:
The zebrafish ( Danio rerio) is a freshwater fish belonging to the minnow family ( Cyprinidae) of the order Cypriniformes. Native to the Himalayan region, it is a popular aquarium fish, frequently sold under the trade name zebra danio (and thus often called a " tropical fish" although not native to the tropics).
We're not saying the mix of vodka and Red Bull could not make people more prone to drunken violence. There is definitely annecdotal evidence for that to be found in bars and nightclubs. But to say it has been "scientifically proven" because some fish behaved differently when given alcohol and taurine? That's like saying Red Bull gives you actual wings because the ad said so. A "fact" that has been actually disproven in court:
Drinks giant Red Bull GmbH must pay $13m to settle the suit, $6.5m of which will go into a fund that will be paid out to an estimated 1.4 million consumers, who can apply for the refund through a specially created website. "Red Bull settled the lawsuit to avoid the cost and distraction of litigation," a spokesman said.