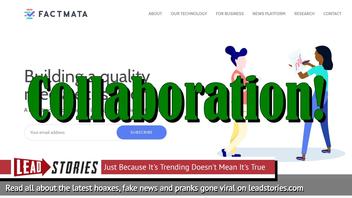 COLORADO SPRINGS/BRUSSELS/LONDON -- Fact checking website Lead Stories (leadstories.com) and artificial intelligence startup Factmata (factmata.com) are happy to announce they will be collaborating in the fight against fake news by exchanging data and sharing digital tools. Both companies are strongly convinced the cooperation will be mutually beneficial and both will gain valuable resources to help them accomplish their respective goals.
Lead Stories is a fact checking website which uses the Trendolizer engine to monitor thousands of known fake news, prank and satire website in order to find trending content to fact check. Trendolizer is also used by Lead Stories to detect and monitor the growth of networks of related websites: many misinformation websites are part of larger clusters run by the same owners and Trendolizer helps map out these hidden relationships.
Factmata uses cutting-edge AI and expert community networks to scalably detect hateful, hyperpartisan content online, as well as nuanced controversial content such as disinformation and fake news that are difficult to detect using algorithms alone. Their technology is being used by brands, publisher networks, social media platforms, ad exchanges and more to prevent damaging ad placements on abusive content for moderation and brand safety purposes.
As part of the collaboration Lead Stories will provide Factmata with access to its Trendolizer tool and the lists it has built up over the years of websites that are publishing hoaxes, pranks, misinformation, satire and fake news. Factmata will be using the tool to discover new, trending content to analyze, and will also add new sources to Trendolizer with new content and networks for Trendolizer to map and analyze based on its proprietary fake news crawling and detection systems.
Dhruv Ghulati, CEO and Chief Research Scientist of Factmata, said "As experts in natural language processing, but not media monitoring, we were looking for partners to help in seeding our algorithms with unique sources of disinformation. This partnership allows us to go one step further in our fight against low quality, damaging content online."
Maarten Schenk, co-founder and editor of leadstories.com, in turn had this to say about the collaboration: "We're excited Factmata has chosen to partner with us and look forward to seeing what their AI and community can learn from our data and how we can apply that knowledge in our own day-to-day fight against fake news in turn. And of course the data discovered via their sources will help us map networks of malicious sites even faster."