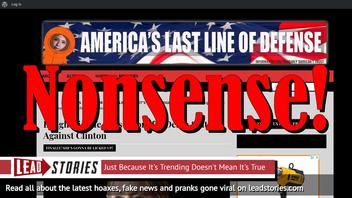 Did the wife of a Benghazi survivor just file a wrongful death lawsuit against Hillary Clinton? No, that's not true: a story with that headline appeared on a liberal satire website that tries to trick republicans and Trump supporters into sharing wildly over the top fake news so fans of the site can mock them for their limited intellect and it seems to have worked again. The entire thing was made up and only the headline made any sense.
The story originated from an article published by America's Last Line of Defense on September 9, 2018 titled "Benghazi Wife Files Wrongful Death Suit Against Clinton" (archived here) which opened:
Blair County, South Carolina : Sharon Orralplay is angry. She's not going to take it anymore.

Don't even get me started on how angry she is about that defenseless textbook.
In January of 2011, her husband, Gavin Orralplay, was re-assigned with his company, Build-A-Bear LLC, to Benghazi, Libya, in order to open and operate a satellite store in the Al'Haffa'Queef Mall. In 2012, when the infamous terrorist attacks on the embassy occurred, Gavin was evacuated, along with his underlings, and routed through the city to a safe zone for pickup. However, Secretary of State Hillary Clinton activated a stand-down order on the transport truck, and simply wired him Uber money instead. Twenty-seven minutes later, Gavin was dead, having choked on an olive in a Martini at the bar of the hotel the Uber had delivered him to.
Users on social media only saw this title, description and thumbnail so only those who didn't even look at the full thing might have possibly thought it was real:
Here comes Justice - O.J. style.
The story is just too ridiculous to fact check. Suffice to say the the site that published it comes with a clear satire disclaimer at the bottom of each article:
sat·ire ~ˈsaˌtī(ə)r
noun
the use of humor, irony, exaggeration, OR ridicule to expose and criticize people's stupidity or vices, particularly in the context of contemporary politics and other topical issues.
If you disagree with the definition of satire or have decided it is synonymous with "comedy," you should really just move along.
The owner and main writer of the site is self-professed liberal troll Christopher Blair, a man from Maine who has made it his full time job to troll gullible conservatives and Trump supporters into liking and sharing his articles. He runs several other websites, including potatriotpost.us, dailyworldupdate.us and nofakenewsonline.us. Sometimes he is also known under his nickname "Busta Troll". A second man working on the sites is John Prager as revealed in this earlier story we wrote.
Articles from Blair's sites frequently get copied by "real" fake news sites who often omit the satire disclaimer and any other hints the stories are fake. Blair has tried to get these sites shut down in the past but new ones keep cropping up and he keeps knocking them down.
If you see one of his stories on a site that does not contain a satire disclaimer, assume it is fake news. If you do see the satire disclaimer it is of course also fake news.
NewsGuard, a company that uses trained journalist to rank the reliability of websites, describes trumpbetrayed.us as:
A website claiming to be satirical that publishes fabricated stories, run by Christopher Blair, a known purveyor of disinformation, that published fake stories about Senator John McCain after he passed away.
According to NewsGuard the site does not maintain basic standards of accuracy and accountability. Read their full assessment here.
We wrote about trumpbetrayed.us before, here are our most recent articles that mention the site: