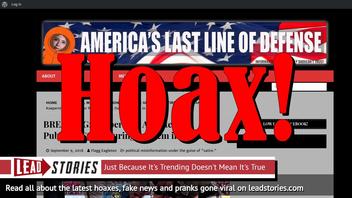 Was Colin Kaepernick arrested in San Farncisco after crashing the field this sunday during the national anthem and taking a knee? No, that's not true: the story was made up by a liberal satire website that makes up stories that conservatives and Trump supporters will like in order to trick them into sharing fake news. None of it is real, it did not happen.
The story originated from an article published by America's Last Line of Defense on September 9, 2018 titled "BREAKING: Kaepernick Arrested for Publicity Stunt During Anthem in San Fran" (archived here) which opened:
Traitorous cretin and anti-American troublemaker, Colin Kaepernick, was just arrested for being stupid in public. Kaepernick decided that he would crash the field during the national anthem in San Fransisco this afternoon, running to the 50-yard line to take a knee, "black power" fist in the air.

Unfortunately for him, San Fransisco authorities and stadium security don't recognize him as a player -- because he's not. Within 30 seconds, the thug was on the ground with a knee on his neck being arrested for trespassing and disorderly conduct. He also tried to resist when officers were hitting him to subdue him. According to one fan in New Balance shoes, he got exactly what he deserved.
Users on social media only saw this title, description and thumbnail so it might not have been immediately obvious it was fake:
What a loser
There are numerous hints on the page the article is fake, like the category 'POLITICAL MISINFORMATION UNDER THE GUISE OF "SATIRE."' it was posted in or the phrase in the site header that reads "Information you probably shouldn't trust".
The picture illustrating the story comes from a video from 2013 that definitely doesn't show Kaepernick being arrested as the gentleman who invades the pitch clearly is white:
The site comes with a clear satire disclaimer at the bottom of each article:
sat·ire ~ˈsaˌtī(ə)r
noun
the use of humor, irony, exaggeration, OR ridicule to expose and criticize people's stupidity or vices, particularly in the context of contemporary politics and other topical issues.
If you disagree with the definition of satire or have decided it is synonymous with "comedy," you should really just move along.
The owner and main writer of the site is self-professed liberal troll Christopher Blair, a man from Maine who has made it his full time job to troll gullible conservatives and Trump supporters into liking and sharing his articles. He runs several other websites, including potatriotpost.us, dailyworldupdate.us and nofakenewsonline.us. Sometimes he is also known under his nickname "Busta Troll". A second man working on the sites is John Prager as revealed in this earlier story we wrote.
Articles from Blair's sites frequently get copied by "real" fake news sites who often omit the satire disclaimer and any other hints the stories are fake. Blair has tried to get these sites shut down in the past but new ones keep cropping up and he keeps knocking them down.
If you see one of his stories on a site that does not contain a satire disclaimer, assume it is fake news. If you do see the satire disclaimer it is of course also fake news.
We wrote about worstpot.us before, here are our most recent articles that mention the site: