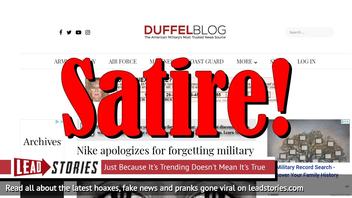 Did Nike apologize to the military "for forgetting the military monopoly on sacrifice" after the controversy that erupted when they opted to have Colin Kaepernick in their ads? No, that's not true: the story was made up by a military satire website. It did not happen for real.
The story originated from an article published by Duffel Blog on September 7, 2018 titled "Nike apologizes for forgetting military monopoly on sacrifice" (archived here) which opened:
BEAVERTON, Ore. -- Nike has issued a public apology to the military community after creating an advertisement featuring the text "Believe in something. Even if it means sacrificing everything," over a picture of a football player who is not a military veteran, sources confirmed today.

"We completely forgot that the only sacrifice that means anything is that of our brave men and women in uniform," Nike CEO Mark Parker wrote in a tweet on Thursday, days after a backlash erupted over an ad campaign that featured Colin Kaepernick.
Users on social media only saw this title, description and thumbnail and might have though it was true:
Nike has issued a public apology to the military community.
Mark Parker is indeed the CEO of Nike and the story also correctly puts the headquarters of the company in Beaverton, Oregon. But all the rest is made up because the website Duffelblog.com is a military-themed satire website which sports following legal disclaimer on its 'about' page:
Legal

We are in no way, shape, or form, a real news outlet. Everything on this website is satirical and the content of this site is a parody of a news organization. No composition should be regarded as truthful, and no reference of an individual, company, or military unit seeks to inflict malice or emotional harm.

All characters, groups, and military units appearing in these works are fictitious. Any resemblance to real persons, living or dead, or actual military units and companies is purely coincidental.
They are sometimes refered to as the military version of The Onion but that same 'about' page points out:
Duffel Blog is sometimes referred to as "The military version of The Onion," but this is a misnomer. The gaffe was cleared up in May 2012 when Duffel Blog staff successfully conducted an airborne assault on the offices of The Onion News Network so that others would know "The Onion was actually the civilian version of Duffel Blog."
So don't fall for any of their stories...
We wrote about duffelblog.com before, here are our most recent articles that mention the site: