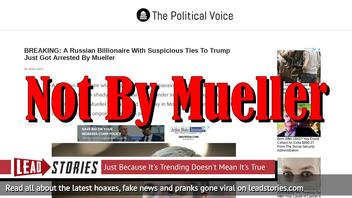 Was Russian billionaire Dmitri Rybolovlev arrested by Special Counsel Robert Mueller during an investigation into a luxurious mansion the man bought from Donald Trump in 2008? No, that's not true: the arrest happened in Monaco (where Mueller has no jurisdiction) and it was about an unrelated case involving alleged fraud and influence peddling that has nothing to do with President Trump.
The story originated from an article published by The Political Voice under the domain name touchalpha.com on November 7, 2018 under the headline "BREAKING: A Russian Billionaire With Suspicious Ties To Trump Just Got Arrested By Mueller" (archived here) which opened:
A Russian billionaire who bought a luxurious mansion from President Trump back in 2008 in a shady dealing that is now under investigation by special counsel Robert Mueller was arrested Tuesday in Monaco and interrogated in connection to an ongoing corruption probe.
Dmitri Rybolovlev, president of AS Monaco, was apprehended by authorities in Monaco on Tuesday and is currently being investigated for charges of corruption according to French news service Le Monde.
Users on social media only saw this title and thumbnail with completely made up information presumably designed to get certain people to click so the site operators can make money through advertising:
It contradicts the Reuters report which says it was local Monaco police (and several other news outlets, including French website Le Monde which is mentioned as the source in the article on The Political Voice):
Police in Monaco on Tuesday detained Russian tycoon Dmitry Rybolovlev, who owns soccer club AS Monaco, for questioning as part of an investigation into corruption and influence peddling, newspaper Le Monde reported.
The Reuters story has more info on the actual case:
A Monaco judge has for over a year been investigating whether Rybolovlev sought to influence Monaco law enforcement officials in his long-running dispute with Swiss art dealer Yves Bouvier.

The Russian alleges Bouvier swindled him out of $1 billion by overcharging him on 38 pieces of art he purchased over a 10-year period and is suing his former art adviser in Monaco, Singapore and Switzerland. Bouvier has denied wrongdoing.

The Monaco prosecutor confirmed to Reuters an operation linked to the investigation but declined to say if Rybolovlev was being questioned by police.
As you can see, nothing to do with Trump or Mueller.
NewsGuard, a company that uses trained journalist to rank the reliability of websites, describes touchalpha.com as:
The website for The Political Voice, a political news site with an undisclosed liberal orientation that regularly publishes poorly sourced information. The site publishes the same content on at least 32 other domains, including axiompost.com and buzzreference.com.
According to NewsGuard the site does not maintain basic standards of accuracy and accountability. Read their full assessment here.