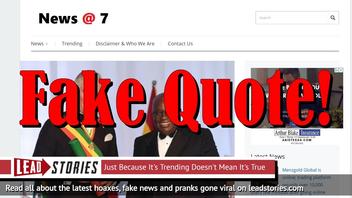 Did Prince Charles say he didn't know people from Ghana needed a visa to visit the United Kingdom and did he promise to do something about that when he got back home from his state visit to the country? No, that's not true: the only site pushing the story is a satire website from Ghana, it is not real.
The story originated from an article published by News@7 on November 6, 2018 titled "Prince Charles says he never knew Ghanaians need visas when visiting the UK; Prince of Wales is shocked and promises to do something - Ghana News" (archived here) which opened:
The visiting Prince of Wales, Prince Charles, is in shock after learning that Ghanaians need visas before visiting the United Kingdom.

Prince Charles says he never knew the travel policy that permitted Ghanaians to visit the UK without visas has been amended.

Camilla, Duchess of Cornwall also heard it for the first time after Ghanaian comedian Clemento Suarez drew her attention to the tough immigration policies imposed on Ghanaians by the UK that seek to extort funds from visa applicants.
Users on social media only saw this title, description and thumbnail:
The Prince is Surprised!
Charles and Camilla are indeed currently visiting Ghana, here is a BBC report on the trip:
Ghanaian journalist Elizabeth Ohene reflects on Prince Charles' visit to Ghana.
But it doesn't mention anything about visas and we found no other official news sources that confirmed the quote is real. That makes sense because the site News@7 shares an Adsense account with jetsanza.com and a Google Analytics account with breaking-cnn.com, two sites that have been linked to or were part of a large network of Ghana-based fake news websites.
The site comes with a satire warning in the footer that was itself copied from a famous hoax website:
sat·ire ~ˈsaˌtī(ə)r
noun
the use of humor, irony, exaggeration, OR ridicule to expose and criticize people's stupidity or vices, particularly in the context of contemporary politics and other topical issues.
If you disagree with the definition of satire or have decided it is synonymous with "comedy," you should really just move along.
We wrote about news7pm.com before, here are our most recent articles that mention the site: