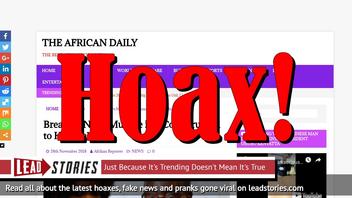 Has Robert Mugabe, the former president of Zimbabwe, fallen into a coma and has he been rushed to hospital? No, there hasn't been any official announcement about this, the story seems to have been made up by a website that is known for publishing death hoaxes and other untrue stories. It is not real.
The story originated from an article published by The African Daily on November 28, 2018 titled "Breaking News:Mugabe in a Coma, rushed to Hospital - The African Daily" (archived here) which opened:
Mugabe was recently paralyzed and could not walk.Mugabe ruled Zimbabwe for 30 years.

Family members said they will talk more about it when Mugabe is in good condition.Mugabe is currently hospitalized in Singapore.
Users on social media only saw this title, description and thumbnail:
Spread the love Harare-Former Zimbabwe president Robert Mugabe has been rushed to hospital after having a breathing problem,family confirms. Mugabe was recently paralyzed and could not walk.Mugabe ruled Zimbabwe for 30 years. Family members said [...]
While it is true that Mugabe is in ill health, as reported by the BBC, there has been no word of him falling into a coma:
Zimbabwe's former President Mugabe, 94, is unable to walk because of ill health, President Emmerson Mnangagwa has said. Mr Mugabe has been in Singapore for treatment for an undisclosed illness for the past two months, he added. The former president also made several medical trips there towards the end of his time in power.
The site that posted the "news" about the coma situation has a history of spreading false news, especially about politicians in ill healt. On November 17, 2018 it falsely claimed the president of Gabon had died (archived here):
IBREVILLE -Gabon President Ali Bongo has died after getting a stroke last month. Gabon's top court had ruled that the vice president will chair the cabinet in the absence of President Ali Bongo, who had remained in hospital in Saudi Arabia.
However only hours ago several news outlets reported that Bongo was still in Morocco undergoing medical treatment:
Gabon's president Ali Bongo is now believed to be in Morocco. According to a facebook post from his wife Sylvia, Bongo will continue treatment in Rabat to continue his recovery. The 59 year old leader was rushed to hospital in Riyadh on October 24 after falling ill at an economic forum.
We wrote about afrikan-daily.com before, here is another example of fake news being published by the site: