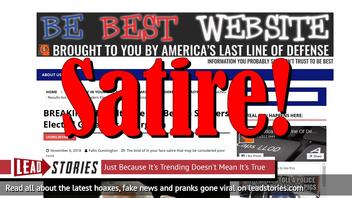 Was Bernie Sanders just elected Governor of Virginia during the U.S. midterm elections? No, that's not true: he did get elected but it was as Senator for Vermont. The "news" that he got the governorship of Virginia came from a left-wing satire site that likes to poke fun at conservatives and Trump supporters by tricking them into liking and sharing over the top fake news stories that are filled to the brim with hints and satire disclaimers if you actually take the trouble to click through to and read them before liking and sharing.
The story originated from an article published on Be Best Website on November 7, 2018 titled "BREAKING : Results Are In : Bernie Sanders Elected Governor of Virginia" (archived here) which opened:
In a stunningly freakish race, Senator Bernie Sanders, who in no way was running for the position, was elected Governor of Virginia, CNN confirmed, moments ago.

Experts are blaming the fictional upset on voter fraud, probably perpetrated by members of MS-13, slowly subverting the election process from their caravan. Others point fingers at George Soros and his army of winged socialist pegasus-riders, who may have been paid to swoop down and manipulate votes.
Users on social media only saw this title and thumbnail:
The site comes with a clear satire disclaimer at the bottom of each article:
sat·ire ~ˈsaˌtī(ə)r
noun
the use of humor, irony, exaggeration, OR ridicule to expose and criticize people's stupidity or vices, particularly in the context of contemporary politics and other topical issues.
If you disagree with the definition of satire or have decided it is synonymous with "comedy," you should really just move along.
The owner and main writer of the site is self-professed liberal troll Christopher Blair, a man from Maine who has made it his full time job to troll gullible conservatives and Trump supporters into liking and sharing his articles. He runs several other websites, including potatriotpost.us, dailyworldupdate.us and nofakenewsonline.us. Sometimes he is also known under his nickname "Busta Troll". A second man working on the sites is John Prager as revealed in this earlier story we wrote.
Articles from Blair's sites frequently get copied by "real" fake news sites who often omit the satire disclaimer and any other hints the stories are fake. Blair has tried to get these sites shut down in the past but new ones keep cropping up and he keeps knocking them down.
Recently Blair and his minions announced they were taking a break from trolling until the midterm electios were over.
Readers of this site are probably aware that some of the content found on Macedonian fake news websites is often copied directly from the satirical sites and Facebook pages of
It appears the quiet time is over, so if you see one of his stories on a site that does not contain a satire disclaimer, assume it is fake news. If you do see the satire disclaimer it is of course also fake news.