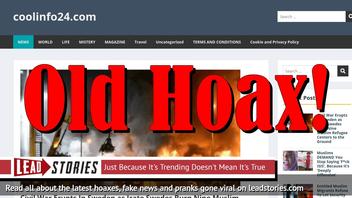 Did civil war just erupt in Sweden (again) after irate Swedes burned down nine muslim refugee centers to the ground (again)? No, the same old fake story which has been circulating since 2015 has been going viral again after being posted on the newest website of a network of Macedonian fake news sites we reported on last week.
This time the story appeared in an article published on December 1, 2018 on 'coolinfo24.com' titled "Civil War Erupts In Sweden as Irate Swedes Burn Nine Muslim Refugee Centers to the Ground - coolinfo24.com" (archived here) which opened:
Refugee centers in Sweden are being burned to the ground in what appears to be a statement against the significant number of refugees the country has allowed in. The multiple arsons have all been at facilities which house or are slated to house immigrants.

One could say that someone in Sweden is mad as hell and bringing fire and brimstone to the facilities that are to be used for refugees. Seven arson fires have occurred, all of which seem to be connected with immigrant centers.
The story is false and has been debunked several times since 2015:
One duty of the fact checker as it pertains to internet rumors is the continued push back against those stubborn canards that consistently resurface. (Analogies of whack-a-mole are brought to mind.) "Civil War Erupts In Sweden as Irate Swedes Burn Nine Muslim Refugee Centers to the Ground" is one such mole.
The Swedes are fed up with the "Muslim invasion" in their country and have fought back with fire, according to a news account on Facebook. "Civil war erupts in Sweden as irate Swedes burn nine Muslim refugee centers to the ground," states the headline in Pipo News, which linked to a similar 2015 article in JewsNews, a fake news website.
Claim: A photograph depicts one of nine anti-refugee arson attacks in Sweden due to a "civil war" there over refugees. WHAT'S TRUE: Instances of arson (and suspected arson) have targeted refugees in Sweden. WHAT'S FALSE: There is major unrest in Sweden over refugees, and the photograph shown above depicts refugee-related arson.
What is more interesting is the website that published it this time: coolinfo24.com was launched just a few days according to WHOIS data:
Domain: coolinfo24.com
Registrar: One.com A/S
Registered On: 2018-11-28
Expires On: 2019-11-28
Updated On: 2018-11-28
Status: ok
Name Servers:
ns01.one.com
ns02.one.com
Registrant Contact
Country: MK
According to data collected through our Trendolizer engine it shares advertising codes with several sites in a huge network of other sites all registered in Macedonia. We wrote about that network and its latest tactics last week after an investigation in collaboration with Nieuwscheckers:
Tara, Jesica, Ana, Lora: since a few weeks dozens of trolls on Twitter are dangling bait in front of American Trump supporters. Their goal: bring in as many clicks as possible for two commercial, (potentially Serbian) anti-islam websites. And it is working: in twelve days they reached a potential audience on Facebook of 3.8 milion users.
Quite amazing they still manage to go viral with a three-year-old story.