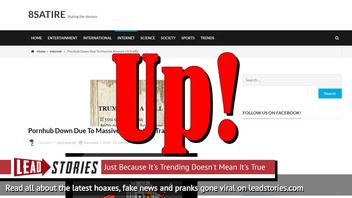 Was Pornhub down because of a massive traffic spike after the internet challenge known as 'No Nut November' ended? No, that's not true: the story was made up by a satire website. PornHub is up, we thoroughly checked, uh, for research...
The story originated from an article published by 8Satire on December 1, 2018 titled "Pornhub Down Due To Massive Amount Of Traffic" (archived here) which opened:
Pornhub has been briefly down after its traffic skyrocketed today at levels they didn't believe were possible. Yesterday was the last day of No Nut November, the traditional month in which people compete for not nutting. Now November is over, and too people are going back to business.

"We have never received such a huge traffic spike", said the president of Pornhub, Gary Cockburn. He kept going: "We were able to quickly recover, since our engineers didn't participate in the challenge, they weren't busy too".
'No Nut November' has following definition at Know Your Meme:
No Nut November is a No Fap Month in which participants attempt to abstain from masturbation for the entire month of November.
Pornhub's press page made no announcements at all about a widespread outage or traffic increase at the time of writing:
The World Famous Pornhub.com, Porn hub is the ultimate free sex community. Amateurs upload, Pornstars have sex, and interact with each other. Download full porn videos.
The 'Gary Cockburn' mentioned as being 'president of Pornhub' is not listed anywhere as an actual executive of the company but the name has been used in plenty of earlier false stories on 8Satire.com. The website carries a disclaimer at the bottom of the page that reads:
8Shit is a satire news and humor website. All its content is fiction (except those posts under the "serious" category) and shouldn't be taken as real. All references, names and marks or institutions in this website are used as contextual elements, like in any novel or science-fiction story.
We wrote about 8satire.com before, here are our most recent articles that mention the site: