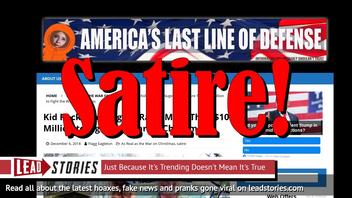 Are Kid Rock and Ted Nugent raising money to help defend Christmas in the "War on Christmas" and have they already collected over $10 million so far? No, that's not true: the story was made up by a liberal satire weblog that tries to educate Trump supporters and Republicans about first clicking on articles before liking and sharing them by fooling them into spreading and commenting on over-the-top fake news as if it was real. The story is completely fictional.
It originated from an article published by America's Last Line of Defense on December 6, 2018 titled "Kid Rock, Ted Nugent Raise More Than $10 Million to Fight the War on Christmas" (archived here) which opened:
Kid Rock and Ted Nugent have just finished off their charity tour to raise money to fight the War on Christmas. Nugent and Rock, whose real name is Louie, say the money they raise will go first and foremost to the community in and around their hometown of Detroit. Fellow Lions fan and expert on Motown, Art Tubolls, told Rolling Stone:

"These two are battling the forces of evil in Michigan. People here openly worship Moon Gods and practice Shania Law. The money they raise will go to festive coffee cups for local shops who can't afford to say 'Merry Christmas' or the liberals who buy that crap will put them out of business. They allocated more than $2 million for garland alone for Dearborn. They also have no turkeys or beef available for dinner on the West side of Kalamazoo. Now, with the help of these true Christians, places where Christmas was nearly forgotten are suiting up their mall Santas and putting the Salvation Army Bellringers back to work."
Users on social media only saw this title, description and thumbnail:
Liberals are calling for a full boycott. And they're crying. Of course.
Rock's real name is "Robert James Ritchie" and Nugent's full name is "Theodore Anthony Nugent". Neither of them is named "Louie". And Art Tubolls is just an anagram for "Busta Troll", the nickname of the owner of the site.
The site comes with a clear satire disclaimer on the "about" page and several other warnings scattered on each page:
America's Last Line of Defense is a whimsical playland of conservative satire.

Before you complain and decide satire is synonymous with "comedy":

sat·ire
ˈsaˌtī(ə)r
noun
The use of humor, irony, exaggeration, or ridicule to expose and criticize people's stupidity or vices, particularly in the context of contemporary politics and other topical issues.

Everything on this website is fiction. It is not a lie and it is not fake news because it is not real. If you believe that it is real, you should have your head examined. Any similarities between this site's pure fantasy and actual people, places, and events are purely coincidental and all images should be considered altered and satirical. See above if you're still having an issue with that satire thing.
The owner and main writer of the site is self-professed liberal troll Christopher Blair, a man from Maine who has made it his full time job to troll gullible conservatives and Trump supporters into liking and sharing his articles. He runs several other websites, including potatriotpost.us, dailyworldupdate.us and nofakenewsonline.us. Sometimes he is also known under his nickname "Busta Troll". A second man working on the sites is John Prager as revealed in this earlier story we wrote.
Articles from Blair's sites frequently get copied by "real" fake news sites who often omit the satire disclaimer and any other hints the stories are fake. Blair has tried to get these sites shut down in the past but new ones keep cropping up and he keeps knocking them down.
Blair and his operation were profiled by the Washington Post on November 17, 2018 by Eli Saslow:
November 17 The only light in the house came from the glow of three computer monitors, and Christopher Blair, 46, sat down at a keyboard and started to type. His wife had left for work and his children were on their way to school, but waiting online was his other community, an unreality where nothing was exactly as it seemed.
If you are interested in learning more about Blair and the history of his sites, here is something to get you started:
STORY UPDATED: check for updates below. Yesterday Eli Saslow at the Washington Post wrote a fantastic article about Christopher Blair, a man from Maine who has been trolling conservatives and Trump supporters online for years and occasionally even made a living out of it.
If you see one of his stories on a site that does not contain a satire disclaimer, assume it is fake news. If you do see the satire disclaimer it is of course also fake news.
NewsGuard, a company that uses trained journalist to rank the reliability of websites, describes wearethellod.com as:
A site that publishes false stories and hoaxes that are often mistaken for real news, part of a network named America's Last Line of Defense run by hoax perpetrator Christopher Blair.
According to NewsGuard the site does not maintain basic standards of accuracy and accountability. Read their full assessment here.
We wrote about wearethellod.com before, here are our most recent articles that mention the site: