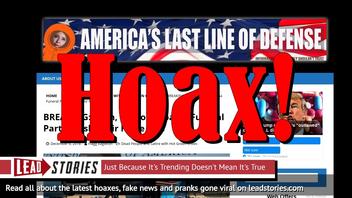 Did former presidents Bush, Clinton and Obama "thrash" Air Force One after President Trump loaned it to them to transport the body of President George H.W. Bush back home? No, that's not true: the story was made up by a liberal satire website that tries to get Trump supporters and conservatives to like and share over the top fake news in order to teach them something about first clicking on an article and reading it before sharing it and making a fool of yourself. The story is not real.
It originated from an article published on December 6, 2018 titled "BREAKING: Bush, Clinton, Obama Funeral Party Trashes Air Force One" (archived here) which opened:
President Trump was gracious enough to loan his personal airplane to the Bush family to transport dead President George H.W. Bush back home to Kennebunkport, Maine. They invited all the other past presidents and even the illegal Obama. In return, the "grieving family" showed their appreciation by leaving the plane a mess and vandalizing the bathroom and kitchen.

According to the US Constitution, a past President has the right to request official transportation, but the new administration doesn't have to say yes. Georgey could have been shipped home UPS freight, but no...he got the full treatment out of respect. According to Trump spokesman Art Tubolls:

"They completely trashed the common areas of the plane. There were cookie crumb and candy wrappers everywhere. Somewhere over New York they decided to take Pops to Vegas, which is where things went bad. There isn't a local airport than can handle a 747, so they landed in a strip of desert and used the hearse in the back of the plane to drive in and gamble a while with dead George sitting in the valet lot."
Users on social media only saw this title, description and thumbnail:
President Trump allowed them to use his plane. They vandalized it on purpose.
The site comes with several satire warnings: it was posted in the category "Dead People and Satire with Hot Green Chiles" and the header of the site read "Information you probably shouldn't trust". The footer of the site proclaimed the copyright was owned by "PAID LIBERAL TROLLS OF AMERICA".
The spokesperson named in the story ("Art Tubbols") does not exist, his name is an anagram of "Busta Troll" and it links to a Facebook profile run by the creator of the site: https://www.facebook.com/TheRealBustaTroll/. All other links in the story go to Google Translate where some texts commenting on the story are translated to Arabic.
The owner and main writer of the site is self-professed liberal troll Christopher Blair, a man from Maine who has made it his full time job to troll gullible conservatives and Trump supporters into liking and sharing his articles. He runs several other websites, including potatriotpost.us, dailyworldupdate.us and nofakenewsonline.us. A second man working on the sites is John Prager as revealed in this earlier story we wrote.
Articles from Blair's sites frequently get copied by "real" fake news sites who often omit the satire disclaimer and any other hints the stories are fake. Blair has tried to get these sites shut down in the past but new ones keep cropping up and he keeps knocking them down.
Blair and his operation were profiled by the Washington Post on November 17, 2018 by Eli Saslow:
November 17 The only light in the house came from the glow of three computer monitors, and Christopher Blair, 46, sat down at a keyboard and started to type. His wife had left for work and his children were on their way to school, but waiting online was his other community, an unreality where nothing was exactly as it seemed.
If you are interested in learning more about Blair and the history of his sites, here is something to get you started:
STORY UPDATED: check for updates below. Yesterday Eli Saslow at the Washington Post wrote a fantastic article about Christopher Blair, a man from Maine who has been trolling conservatives and Trump supporters online for years and occasionally even made a living out of it.
If you see one of his stories on a site that does not contain a satire disclaimer, assume it is fake news. If you do see the satire disclaimer it is of course also fake news.
NewsGuard, a company that uses trained journalist to rank the reliability of websites, describes wearethellod.com as:
A site that publishes false stories and hoaxes that are often mistaken for real news, part of a network named America's Last Line of Defense run by hoax perpetrator Christopher Blair.
According to NewsGuard the site does not maintain basic standards of accuracy and accountability. Read their full assessment here.