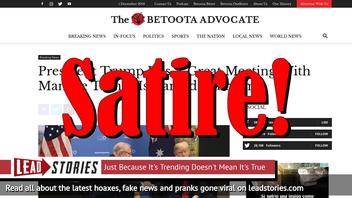 Did U.S. President Donald Trump refer to the new Australian P.M. Scott Morrisson as 'Malcom', 'President Trunchbull', 'Trundle' or 'Malcolm Morris Trundler', mistaking him for the previous P.M. Malcolm Turnbull? No, that's not true: the confusion story was made up by an Australian satire website that pretends to be the local newspaper of a little backwoods town named Betoota, it is not real, even though it got several thousand engagements on Facebook already.
The story originated from an article published on December 1, 2018 titled "President Trump Has A Great Meeting With Man He Thinks Is Named Malcolm" (archived here) which opened:
Despite a schedule full of watching Fox News and tweeting (almost definitely from the toilet) US President Donald Trump managed to find time to meet with Australia's Prime Minister who according to him is a guy called Malcolm.

In his search to meet someone who represents the average Australian, Prime Minister Scott Morrison organised to meet with the billionaire US President at the G20 summit and stated the meeting went well despite the fact Trump referred to him as 'Trunbull' at various points of the conversation.
Users on social media only saw this title, description and thumbnail, possibly giving the joke away:
"Very good President of Australia, they call him Crocadoo Jack, King of the Outback," stated Mr Trump.
Trump did meet with the new Australian Prime Minister at the summit but no reliable sources made any reports of Trump mispronouncing his name or confusing him with his predecessor:
Meeting with Australia's leader at the G20 Summit in Argentina, the US President gets a personal explanation of events that led to him meeting Scott Morrison as Prime Minister - not the man he has been used to meeting at the White House, in New York and at world summits for the last two years.
The Betoota Advocate is a satirical website (even though it does not come with an explicit satire disclaimer). In December 2017 The New York Times ran a feature about the founders:
For three years Mr. Overell and Mr. Parker have remained steadfastly in character as proprietors of a rural newspaper. Often compared to the satirical news site The Onion, The Betoota Advocate has become the sardonic voice of disenchanted millennial Australians.
So you should really not believe anything the site says without checking it first...
We wrote about betootaadvocate.com before, here are our most recent articles that mention the site: