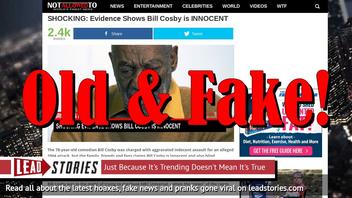 Did 'shocking' evidence prove Bill Cosby is innocent? No, that's not true: an image appearing to be a screenshot from some television show which recently went viral again actually originated from a 2016 satire article. Cosby was found guilty of sexual assault in 2018.
On February 6, 2019 a Facebook post (archived here) went viral showing a screenshot of what looked like a TV broadcast that had a banner that said "Shocking evidence shows Bill Cosby is innocent" superimposed over a photo of the actor and comedian.
However Cosby was convicted of sexual assault in 2018 as was widely reported in the media:
NORRISTOWN, Pa. - Bill Cosby, who fell from grace as "America's Dad" to a convicted sex offender, was sentenced Tuesday to three to 10 years in state prison. The 81-year-old comedian was seen being walked down a courthouse hallway in handcuffs after he was denied bail less than an hour after his sentencing.
The screenshot originated from a 2016 article from a website named "Notallowedto" (archived here):
The 78-year-old comedian Bill Cosby was charged with aggravated indecent assault for an alleged 2004 attack, but the family, friends and fans claims Bill Cosby is innocent and also blind. Social media and news have been reporting about how guilty Bill Cosby is . . .
Here is the image again, in case the original goes down: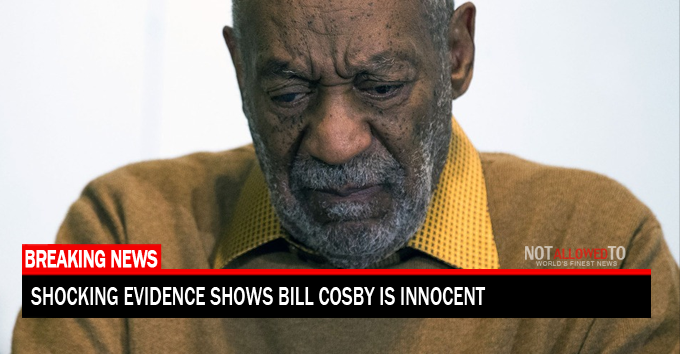 That website has a disclaimer at the bottom which reads:
Notallowedto.com is satire entertainment website!
It isn't very open about that fact though. Current visitors to the site can hardly see the disclaimer as it is mostly hidden by a banner with social media sharing buttons and it sits right below a big block of sponsored links:

It is almost like visitors are "Not Allowed To" see this disclaimer...