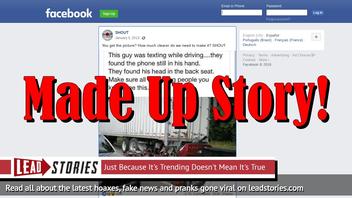 Did the driver of the red Corvette pictured crushed under a tractor-trailer die while texting, and was the phone was found in his hand, while his head was in the back seat? No, that's not true: The image used in the viral post was from a July 2005 accident on a New Jersey highway and contemporaneous reports made no mention of texting or the driver's head being found in the back seat (which is non-existent in Corvettes.)
One example of the false claim is a post (archived here) published on January 2, 2013, and duplicated many times. It opened:
Did the driver of the red corvette pictured crushed under a tractor-trailer die while texting, and the phone was found in his hand while his head was in the back seat?

This guy was texting while driving.... they found the phone still in his hand. They found his head in the back seat. Make sure all the young people you know see this.
This is how the post looks on social media:
A Google reverse image search revealed the original coverage of the accident in a local newspaper, The Record of Bergen County, New Jersey, published on July 29, 2005.
FRANKLIN LAKES - A Westchester County man died Thursday afternoon in a crash on Route 287.Joseph Gianelli, 58 of Irvington, N.Y., was pronounced dead at the scene after his Chevrolet Corvette struck the rear of a tractor-trailer at about 1 p.m., near milepost 65, state police said.

The truck, operated by Clouis Oquinn Jr., 52, of Virginia, was parked on a northbound shoulder when the Corvette plowed into it. Oquinn was not injured, officials said. The crash was under investigation Thursday evening.
Photographs of the accident were shared on forums, including this Corvette owner's forum, in the weeks and months after the accident. Commenters noted the dangers of the low-riding Corvettes and speculated on the possible causes of the crash. Speculation included the possibility that the driver fell asleep and his car drifted into the emergency lane, where the truck was stopped, or perhaps the driver had a heart attack and lost control. Distracted driving dangers in 2005 were more likely a driver looking down to adjust the FM radio and not a 58-year-old driver texting.
The images from this 2005 crash have also been shared during online discussions about the need for lower rear bumpers on tractor-trailers.
Warning drivers about the dangers of texting while driving is commendable, but creating and sharing false information is discouraged.