STORY UPDATED: check for updates below.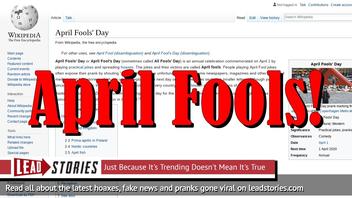 If you are a fan of pranks and jokes today is undoubtedly the day you have been waiting for. Here is a roundup of some of the funniest or weirdest April Fools jokes we have spotted today, in no particular order.
Note: we are not fact checking them because we don't want to spoil the fun.
This morning, the National Park Service confirmed the existence of an elaborate network of moonshiner tunnels in and around the Great Smoky Mountains National Park. According to a press release from park officials, the miles-long subterranean passageways, which are believed to have been used by bootleggers, were uncovered early last week.
This morning, it was confirmed that Dolly Parton and Herschend Family Entertainment have reached an agreement to sell the Dollywood theme park to rapper and entrepreneur Kanye West. The critically acclaimed artist took to Twitter to announce the news, sharing a link to the official press release with the text, "Y'all ready for YEEZYWOOD???"
An astute fan of the Glenn Beck Program recently found a curious document that was apparently left on a corner table of an El Paso coffee shop. Upon closer examination of the coffee-stained pages, the fan was rather surprised to discover it was a Beto campaign memo containing the rough draft of a ...
Jarrod Fairclough - In wildly exciting news, we can exclusively report that Disney+ have abandoned their initial concept for a new Muppet series, and instead will put in to production a sixth season of The Muppet Show!
An unredacted copy of the Robert Mueller report has been leaked to the Washington Post , who published the full document on its website Monday. The report contains many shocking revelations which prove that Attorney General William Barr deceived the world in his summary of its contents, as astute Trump-Russia collusion theorists have been claiming since it emerged.
Over the weekend, news broke that The Rolling Stones postponed their upcoming U.S./Canada tour because Mick Jagger "needs medical treatment." Doctors have advised Mick that he is "expected to make a complete recovery so that he can get back on stage as soon as possible."
Fyre Festival 2 is a rich experience that emboldens our quest to connect a diverse set of influencers. On two weekends this year, the curious and adventurous come together on Pulau Tinggi, Malaysia.
The duo reportedly made a secret live return at the 2018 Flat Earth Convention in November...
THE poop emoji is one of six themed 50p pieces - the others feature a peach, a heart, a flame, an aubergine and a crying with laughter smiley.They are expected to go into circulation next month - with colour editions set to follow later in the year.
In an announcement that has sent shockwaves through the world of entertainment and sport, Hollywood superstars and All Blacks fans Dwayne "the Rock" Johnson and Jason "Aquaman" Momoa have signed developmental contracts with New Zealand Rugby - and are set for their first taste of rugby in this year's Heartland Championship.
Pornhub's slide into music gets deeper with the launch of its own house and techno festival. First Kanye West was awarded a premium membership for life, before he was asked to be the creative director for the Pornhub Awards.
After talking to so many of our leaders I have now realised that they have the climate crisis under control, they understand the emergency and are ready to act.
So I've now decided to stop striking and go back to school for good. I will no longer school strike on Fridays.

-- Greta Thunberg (@GretaThunberg) April 1, 2019
ATLANTA, GA-Fooling thousands of readers in a prank that the cable news organization said was "just for fun," CNN published a real news story for April Fools' Day this year.The story simply contained a list of facts, with no embellishment, editorializing, or invented details.
ALEXANDRIA, VA-Paperwork filed with the Kentucky Horse Racing Commission suggests a horse of a different stripe might take all the roses this year in Louisville. Named 'Kalahari," the colt has been clocking record times in a clandestine training facility, located outside of Middleburg, VA. The rules for the famous two-year old race, called the "most ...
A young wooly sunfish Woola woola in the Aquarium's Open Sea exhibition. © Monterey Bay Aquarium Monterey, CA - In a hair-raising breakthrough, scientists at the Monterey Bay Aquarium have successfully hatched the previously extinct wooly sunfish, or Woola woola.
2019-04-01T20:14:26Z

2019-04-01T20:14:26Z

Added Wooly Sunfish story

2019-04-01T20:11:16Z

2019-04-01T20:11:16Z

Added Zebra story

2019-04-01T20:08:04Z

2019-04-01T20:08:04Z

Added CNN story from The Babylon Bee (currently going massively viral)

2019-04-01T18:05:55Z

2019-04-01T18:05:55Z

Added Lead Stories' editor grandkids joke

2019-04-01T18:01:54Z

2019-04-01T18:01:54Z

Added Thunberg climate change joke

2019-04-01T15:20:21Z

2019-04-01T15:20:21Z

Added Google Tulip joke

2019-04-01T15:13:35Z

2019-04-01T15:13:35Z

Added PornHub joke

2019-04-01T15:11:11Z

2019-04-01T15:11:11Z

Added All Blacks joke

2019-04-01T15:06:45Z

2019-04-01T15:06:45Z

Added Royal Mint joke

2019-04-01T15:01:48Z

2019-04-01T15:01:48Z

Added Daft Punk joke

2019-04-01T14:58:44Z

2019-04-01T14:58:44Z

Added McPickle Burger joke

2019-04-01T14:55:02Z

2019-04-01T14:55:02Z

Added Fyre Festival 2 joke

2019-04-01T14:50:19Z

2019-04-01T14:50:19Z

Added Led Zeppelin joke

2019-04-01T14:35:24Z

2019-04-01T14:35:24Z

Added Mueller Report joke

2019-04-01T14:33:08Z

2019-04-01T14:33:08Z

Added Muppet Show news

2019-04-01T14:29:21Z

2019-04-01T14:29:21Z

Added Beto memo