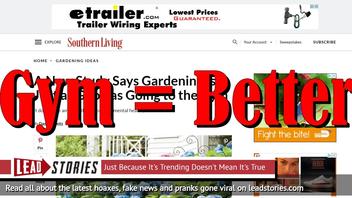 Did a new study say gardening is just as good as going to the gym when it comes to health benefits and reduction in mortality risk? No, that's not true: the study found there was a beneficial effect from "light and moderate intensity physical activity" (like gardening) but found that there was a bigger effect from "vigorous physical activity" (like running).
The claim went viral via an article published by Southern Living on April 15, 2019 titled "A New Study Says Gardening Is Just as Good as Going to the Gym" (archived here) which opened:
Trying to squeeze in the recommended 150 minutes of exercise per week can seem daunting -- that's a lot of time at the gym! But what if you could reap the emotional and physical benefits of working out through a favorite leisure activity, like tending to your garden?

A long-term study from researchers across the world--China, Texas, North Carolina--tracked something a bit easier, and more fun. They measured something called "leisure time physical activity," done in varying weekly amounts, and compared it to the risks of various forms of death, including cardiovascular disease and cancer.
Users on social media only saw this title, description and thumbnail:
It does some amazing things for your mental health, too!
The exact same article also appeared in Better Home & Garden on April 9, 2019:
It does some amazing things for your mental health, too!
It is no surprise a gardening magazine would promote the benefits of gardening but in this case they get the actual results of the study wrong. There was indeed a new study published in the British Journal of Sports Medicine, in March 2019 that looked at the relationship between leasure time physical activity and mortality:
Background Evidence on the role of very low or very high volumes of leisure time physical activity (PA) on the risk of all-cause and cause-specific mortality is limited. We aimed to examine the associations of different levels of leisure time PA with the risk of all-cause, cardiovascular disease (CVD) and cancer-specific mortality.
But even the summary of the study says doing more exercise is better than just engaging in a low dose of leisure time physical activity:
Conclusions: We found that beneficial association between leisure time PA and mortality starts from a low dose. Doing more vigorous exercise could lead to additional health benefits.
The full conclusions put it even more sharply:
CONCLUSIONS
Assuming causality of the associations we observed, both
low and high levels of PA have beneficial effects on all-cause
and cause-specific mortality risk. Importantly, vigorous PA
has added benefits for reducing mortality compared with
moderate PA. Promoting PA of any intensity and amount
is an important approach to reducing mortality risk in the
general population.


What are the findings?
►Our cohort study suggested that a low dose of light to
moderate-intensity physical activity was associated with
lower risk of mortality: individuals doing more exercise could
achieve additional health benefits. Of note, there was still
benefit rather than excess risk associated with very high
levels of leisure time physical activity.
Also note: the study compared various types of physical activity (PA):
vigorous PA (eg, running, faster cycling and competitive sports, etc.)
and
light or moderate PA (eg, brisk walking, dancing and gardening, etc.)
It didn't actually say anything about going to a gym (although that would probably qualify as vigorious PA).
NewsGuard, a company that uses trained journalist to rank the reliability of websites, describes southernliving.com as:
The website of the magazine Southern Living, covering culture and lifestyle in the American South.
According to NewsGuard the site can generally be trusted to maintain journalistic standards. Read their full assessment here.
But in this case they should probably have read the actual scientific study before making any claims about the relative merits of gardening vs. going to the gym. Gardening is indeed good and has beneficial effects, but excercising at the gym will get you more bang for your buck, health-wise.