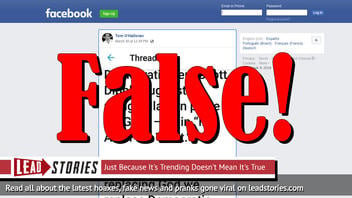 Did Minnesota Democratic State Sen. Scott Dibble suggest using "Allah" in place of "God" -- as in "In Allah We Trust" -- as a motto to be placed in schools? No, that's not true: Sen. Dibble actually proposed using "Yahweh," the Hebrew name for God -- not "Allah," the Arabic word for God. It was an amendment proposed during debate over a bill to allow Minnesota public schools to display the religious motto.
The false claim was made in a social media meme including this post (archived here) published on March 30, 2019. It read:
Democratic Sen. Scott Dibble suggested using 'Allah' in place of 'God' -- as in 'In Allah We Trust.'
I say, instead of replacing God we replace Democratic Sen. Scott Dibble!
This is what social media users saw:
The controversy is centered on the Minnesota state senate debate in May, 2018 concerning the bill allowing the prominent display of "In God We Trust" in schools. It was adopted as the national motto of the United States in 1956 and several state legislatures have recently passed bills to display it in schools. Sen. Dibble, a Democrat, argued against the proposal, which was introduced by State Sen. Dan Hall. Dibble suggested senators should consider how the display might look to non-Christian students.
I think it would send a fairly strong and unmistakable signal to young people of a variety of different religious perspectives and beliefs, that their perspective, their belief, their presence in that particular building when they're greeted by a sign like this is not tolerated, is not respected...

I'm wondering if Sen. Hall would feel the same if students walked in and instead of the word 'God' the word 'Allah' -- which is the word for God in the Muslim religion -- welcomes students to their schools.
Dibble then proposed an amendment which would have replaced "God" with "Yahweh" -- the term for God in the Hebrew Bible. The amendment failed.

Watch video of the state senate debate: