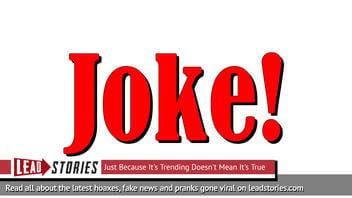 Was a woman in Alaska saved from a rapist by a gay rapist who raped the rapist? No, that's not true: the story of instant karma was made up by a site that used to publish fiction disguised as news but which now clearly labels all stories as fictional.
The story originated from an article (archived here) published by Huzlers where it was published in 2018 under the title "Woman Saved From Rapist By Gay Rapist Who Raped The Rapist ". It opened:
In a bizarre case of instant karma, a rapist went from being the predator to being the prey, when he was trying to rape a woman and was found by another rapist who then raped him.

James Preston, a 51-year old man, was trying to rape a woman, whose name is unidentified, in Alaska yesterday, at around 1 AM. He took her into an isolated place and before he could start, another man, Bernard Jones, came into the scene.
The story was published under the category "Fictional news". The story did use a picture of a real rapist but he was a Syrian refugee in Switzerland who raped a 15-year-old girl in 2014:
Hassan Kiko has been convicted of raping a teenage girl in Zurich, Switzerland The attack happened in 2014 when he lured the girl into a colleague's car Earlier this year, he famously broke out of a Swiss jail and went on the run It came after he seduced his female prison guard turned lover Angela Magdici An asylum seeker who broke out of jail after seducing a female prison guard has now been convicted of raping a 15-year-old girl.
Huzlers styles itself as a "fauxtire" website and carries a disclaimer at the bottom of each page:
ABOUT US
Huzlers.com is a satirical and fictional news blog that focuses on celebrities, hip hop and urban entertainment. If it's trending it's here!
In addition to that it also has a subheading in its logo that reads "Because you love being lied to".
According to Splinter News the site is run by Pablo Reyes and David Martinez and according to Buzzfeed Reyes was involved with several other fake news websites. They tend to shy away from political stories, opting instead to write for a more "urban" audience, with stories about rappers, criminals and celebrities. In recent months Huzlers has started marking its stories much more clearly as being fictional in response to increased scrutiny by fact checkers.