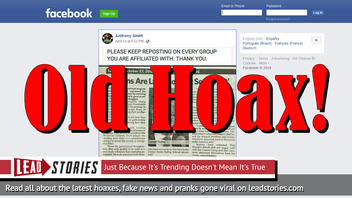 Did Donald Trump Say "Africans Are Lazy, Good At Sex, Theft"? No, that's not true: an old article run by an unreliable Kenyan website in 2015 got picked up and slightly mangled by a website from Zimbabwe shortly afterwards. It appears that website belonged to a local newspaper that then printed a paper version of the story. A picture of that story went viral again in 2019.
An example of the picture can be seen in a viral Facebookpost post (archived here) . It urged people to:
PLEASE KEEP REPOSTING ON EVERY GROUP YOU ARE AFFILIATED WITH. THANK YOU.
The image in the post looked like this: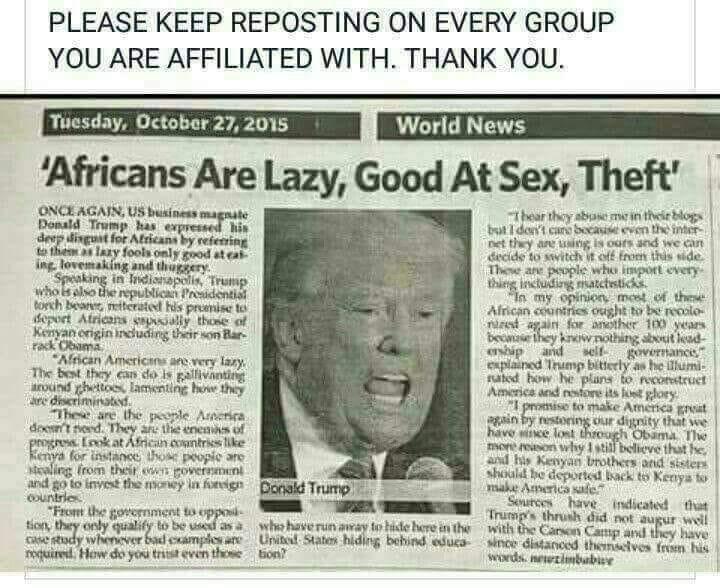 The story seems to be mostly identical to this one at "Politica" (politics.co.ke) (archived here):
By Christine Mendoza Once again, US business magnate Donald Trump has expressed his deep disgust for Africans by referring to them as lazy fools only good at eating, lovemaking and thuggery. Speaking in Indianapolis, Trump who is also the republican Presidential torch bearer reiterated his promise to deport Africans especially those of Kenyan origin including ...
That story was debunked by Snopes in 2015:
Claim: Donald Trump said Africans are "lazy fools only good at eating, lovemaking and thuggery." Example: [ Collected via e-mail, October 2015] A friend and I have been arguing back and forth about this article saying that Trump claimed Africans are lazy and are only good at sex and stealing.
The site noted at the time that they found no record of Trump even being in Indianapolis in October 2015:
While the Trump campaign doesn't appear to maintain a public list of the candidate's scheduled appearances, we were unable to locate any instances in which he visited Indianapolis at any point in October 2015. Moreover, the comments attributed to Trump (purportedly spoken to an American audience in a U.S. city) by African web sites rated as far more offensive than prior controversial remarks made by the candidate in the past that were widely reported by the U.S. news media; yet for some reason this purported quote didn't attract the attention of a single U.S.-based political blog or web site.
That didn't stop New Zimbabwe from copying the story:
archived 21 Jan 2016 23:01:14 UTC
It appears the story went to print with that headline and a picture of this story is now circulating the internet in 2019...