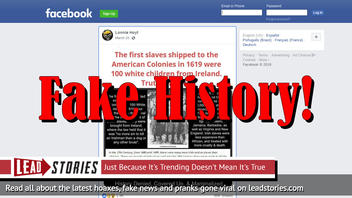 Were the first slaves shipped to the American Colonies in 1619 100 white children from Ireland.? No, that's not true: While there are historical records of several thousand Irish children being shipped to the colonies decades later as orphans and indentured servants, they were not treated as chattel slaves. The first slaves in the American colonies arrived in Jamestown, Virginia, from Africa in 1619. Indentured servants were committed to work for a specific period of time -- often 7 years -- and then freed, while African slaves were considered slaves until death and it continued with their offspring.
The false history has circulated for years on social media in memes, and a recent example is a post (archived here) published on March 10, 2019 under the title "The first slaves shipped to the American Colonies in 1619 were 100 white children from Ireland. Truth Matters". It opened:
The first slaves imported into the American colonies were 100 white children in 1619. Four months before their arrival of a the first shipment of Black slaves. Many were brought from Ireland, where the law held that it was "no more sin to kill an Irishman than a dog or any other brute."
Social media users see this:
The meme incudes a photo of three young girls, implying that these were Irish slaves. The image was actually taken by Lewis Hines, who documented child labor conditions in the early 20th century. He captioned it "Group portrait of young girls working as oyster shuckers at the canning company at Port Royal, SC, 1911. From left to right: Josie, six years old, Bertha, six years old, and Sophie, 10 years old." You can view the original at the Getty Images website here. These children may or may not have been Irish, but they were certainly not slaves in 1911.
The text that accompanies the out-of-context image is also very wrong.
Did 100 white children arrive in the American colonies as slaves four months before "the first shipment of Black slaves" in 1619? No. The Virginia colony, which was expected to make a profit for investors, was barely a decade old and struggling for survival when a ship carrying Africans taken from Angola in West Central Africa arrived at Jamestown in 1619. When the early colonists purchased about 20 Africans, there were already about 500,000 Africans in bondage in the West Indies. Records in the first decade listed them as servants, not slaves, and the first Black person born in Virginia was treated as a free citizen. It was only decades later they were considered slaves. To learn more about when and how that happened, click here. There were no white children brought to Jamestown as slaves in 1619, but there were already white indentured servants working in the new colony.
Read also: Hoax Alert: First Slave Owner in America WAS NOT a Black Man
The fake meme also claims that many of the children were from Ireland, "where the law held that it was 'no more sin to kill an Irishman than a dog or any other brute.'" There was no such Irish or British law. That phrase is a reference to a 13th century quote -- 300 hundreds years earlier -- from the the Remonstrance of the Irish Chiefs to Pope John XXII. If you wish to learn more about that (and why it has nothing to do with this topic) click here.
The meme then makes another spectacular and false claim:
King James II, followed by Charles I and Oliver Cromwell, sold over 500,000 Irish Catholics into slavery throughout the 1600's onto plantations in the West Indies Islands of Antigua, Montserrat, Jamaica, Barbados, as well as Virginia and New England. Irish slaves were less expensive than African, and treated with more cruelty & death. In the 17th Century, from 1600 to 1699, there were many more Irish sold as slaves than Africans. There are records of Irish slaves well into the 18th Century.
While thousands of Irish Catholics were taken to the West Indies and North America during the 17th century, it was no where near a half million. Those that did make the voyage were indentured servants -- working for a specific period of time -- and not slaves, whose only freedom was in death. To learn more about why this claim is false, read this detailed analysis from historian Liam Hogan.
The last sentences of the meme are a remarkable misappropriation of a terrible event in the history of the African slave trade -- and not involving the Irish.
Many never made it off the ships. According to written record, in at least one incident 132 slaves, men, women, and children, were dumped overboard to drown because ships' supplies were running low. There were drowned because the insurance would pay for an "accident," but not if the slaves were allowed to starve.
There is no historical record of Irish men, women, and children being tossed from a ship to collect insurance money. There is, however, the Zong massacre involving Africans.
While the Zong, a slave-ship, was en route from West Africa to Jamaica with a cargo of slaves, Captain Luke Collingwood worried that the ship was running out of supplies. The ship had already encountered disease, and so as to save supplies and attempt to slow the spread of pestilence, Cullingwood decided to drown a large number of slaves. A total of 121 slaves were thrown overboard in three days, many of whom were perceived to be sick and dying, and an additional 10 committed suicide, thinking they would be killed next.
Read more about this atrocity here.