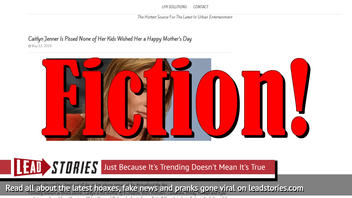 Was Caitlyn Jenner pissed that none of her kids wished her a happy Mother's Day? No, that's not true: the story was made up by a website that publishes fiction disguised as entertainment news (with a teeny, tiny disclaimer at the bottom saying everything on the site is "satirical").
The story originated from an article published by LFR Solutions on on May 14, 2019 titled "Caitlyn Jenner Is Pissed None of Her Kids Wished Her a Happy Mother's Day" (archived here) which opened:
It's the day after Mother's Day and many are still celebrating across the US except for Caitlyn Jenner. According to Caitlyn, none of her kids bothered to to wish her a Happy Mother's Day and it's left the former Olympic champion livid. Caitlyn was so upset, she cried her heart out all day as her phone remained dry throughout the day.
Formerly known as Bruce Jenner, Caitlyn is the mother of 6 children, Burt, Brandon, Cassandra, Brody, Kendall and Kylie and step mother of four, Kourtney, Khloe, Kim and Rob and a host of grandkids. Although technically he is the father of the 10 kids, since he become transgendered, it's only fair that he is acknowledged as a woman, therefore becoming their mother or stepmother. According to Caitlyn, she's pissed that none of her kids wished her a Happy Mother's Day
Users on social media only saw this title and thumbnail:
The site LFR Solutions comes with a disclaimer at the bottom of every page that reads:
The stories posted on lfrsolutions.com are for entertainment purposes only. The stories may mimic articles found in the headlines, but rest assured they are purely satirical.
However that disclaimer is between four and five pixels tall so it is hardly legible on most screens. To us that indicates deception is going on so in accordance with our Satire Policy we rate this story "False".