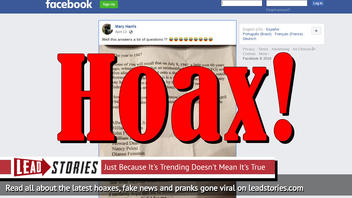 Were major Democratic Party leaders including Bill and Hillary Clinton, Al Gore, Nancy Pelosi, Charles Schumer, John Kerry, Howard Dean, Nancy Pelosi, Dianne Feinstein, and Barbara Boxer born nine months after a UFO crashed near Roswell, New Mexico, in 1947? No, that's not true: The only Democratic leader listed on a trending meme making the claim who was born near that date was Al Gore, who was born on March 28, 1948. Lead Stories has not fact checked if the former vice president and 2000 Democratic presidential nominee was bred by aliens from another planet, but the meme is ruled a hoax since the birthdays of the other eight Democrats are not in the stated timeframe.
The false claim has circulated via email and social media since at least 2006 and most recently in a post (archived here) published on April 13, 2019, under the title "Well this answers a lot of questions!!!" It opened:
The year is 1947

Some of you will recall that on July 8, 1947, a little over 60 years ago, witnesses claim that an unidentified flying object (UFO) with five aliens aboard crashed onto a sheep and mule ranch just outside Roswell, New Mexico. This is a well known incident that many say has long been covered up by the U.S. Air Force and other federal agencies and organizations.

However, what you may NOT know is that in the month of April 1948, nine months after that historic day, the following people were born:

Albert A. Gore, Jr.

Hillary Rodham

John F. Kerry

William J. Clinton

Howard Dean

Nancy Pelosi

Dianne Feinstein

Charles E. Schumer

Barbara Boxer

See what happens when aliens breed with sheep and jackasses?

I certainly hope this bit of information clears up a lot of things for you. It did for me.

No wonder they support the bill to help illegal aliens!
This is what social media users saw:
Lead Stories assumes this claim started as political humor, but too often unquestioning minds accept satire as true history. Here are the birthdays for each of the Democrats on the list as purportedly born on or about April 1948.
Hillary Rodham Clinton, former first lady, secretary of state and 2016 Democratic presidential nominee, October, 26, 1947
Al Gore, former vice president and 2000 Democratic presidential nominee, March 28, 1948
Bill Clinton, former U.S. president, August 19, 1946
Howard Dean, former Vermont governor and 2004 Democratic presidential candidate, November 17, 1948
Nancy Pelosi, Speaker of the House, March 26, 1940
Dianne Feinstein, U.S. senator from California, June 22, 1933
Charles Schumer, U.S. senate from New York, senate Democratic leader, November 23, 1950
Barbara Boxer, former U.S. senator from California, November 11, 1940
According to a Snopes review published in 2013, the same claim has been made about Republican leaders, none of whom were born in the stated timeframe.