STORY UPDATED: check for updates below.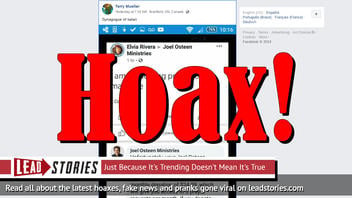 Did the Joel Osteen Ministries reject a prayer request from a woman, telling her she must first activate a prayer request account and promise to donate $24.99 each month? No, that's not true: Osteen's spokeswoman said the Facebook post is a "fabricated image" and not from the televangelist's ministry. The post did not not include the blue check mark signifying a verified account, which Osteen's page has.
The fake post began circulating in May 2019, including in a post (archived here) published on May 14, 2019 under the title "Synagogue of satan". It opened:
I am requesting prayer for my marriage

Joel Osteen Ministries
Unfortunately, your Joel Osteen prayer request account has not been activated. In order to activate your account, you will need to add a monthly donation of $24.99, which will give you access to 3 prayer requests per month. If you donate $49.99 each month you will become a Platinum Prayer Request member, which gives you access to over 10 prayer requests per month and a chance to buy tickets to my next performance at your local arena.
This is what social media users saw:
Joel Osteen Ministries' public relations director Andrea Davis told Lead Stories the organization has tried to determine the origin of the image, but they say it was not defintitely not a message from them:
To confirm, the prayer response message going around is a fabricated image and it is not from Joel Osteen Ministries.
One way to know the message was not from Osteen is the absence of a blue check mark, showing it is from a verfied account such as Osteen's.
Lead Stories identified the imposter account, which was created on May 13, 2019, and it was taken down on May 16, 2019.
Lead Stories also reached out to the woman whose Facebook account appears to be involved, and she responded:
All I did was request prayer from his ministry because I believe in the power of prayer and I believe in this ministry. I want to believe that this is not from Joel. I love and respect him in Christ and I believe in him. Whomever sent this to me will not change my mind or change the way I feel about Joel's Ministry. I will continue listening to his preaching and I will continue praising God for all he does. One main reason that I believe that he is got sent is because he always says look for a bible-based church.. I sent him a picture of the post and they have not responded. I didn't post anything I just requested prayer and this just got out of hand. I honestly don't even know who sent this post to me.
She also posted another message on Osteen's Facebook page to which the ministry replied telling her she had earlier posted on "a fake account." It read:
There's a post that is going viral. I requested prayer from your ministry and I received notice that unfortunately my account has not been activated and that I would have to pay $24.99 a month for three prayer request. I am just wanting to know if this is from you all and praying that it's not because I praise God for this ministry. Joel and Victoria have been such a blessing in my life. Please clarify this for me I love you guys and may God bless you and your ministry

(then a reply from Joel Osteen Ministries, with the blue check)

This is a fake account. Thank you for bringing this to our attention. - JOM Team
Osteen's spokeswoman told Lead Stories the organization works hard to respond to all prayer requests, but "there have been so many and it's hard to say which ones are really genuine" in the wake of the fake post.
2019-05-16T13:43:53Z

2019-05-16T13:43:53Z

Victim of hoax responds to Lead Stories; imposter account taken down.