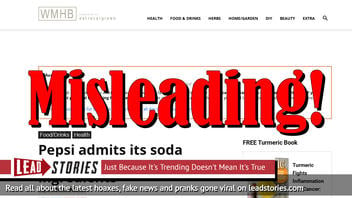 Did Pepsi admit that its soda contains cancer-causing ingredients? No, that's not true: The drink company settled a legal dispute with a health group in September 2015 by agreeing to change its manufacturing process to reduce the level of a questionable chemical, but it did not admit the chemical was a cancer-causing ingredient.
The story originated in 2016 in several versions, including an article (archived here) published by WiseMindHealthyBody.com in 2016 under the title "Pepsi admits its soda contains cancer-causing ingredients". It opened:
When the Center for Environmental Health released test results showing that Pepsi intentionally covered up the presence of high levels of 4-Mel in its popular soft drinks in 2013, the company denied both the presence of this chemical in its beverages and the fact that it was dangerous. 4-Mel, which is short for 4-Methylimidazole, is a compound that is formed in the manufacturing of caramel coloring, and is a known carcinogen. Since then, the drinks maker has fought against complying with California state requirements to place a cancer warning label on the beverages that contain the ingredient, which include not only Pepsi, but also Diet Pepsi and Pepsi One.

Now, a settlement in a class action lawsuit against Pepsi has gained preliminary approval from a federal judge in California. As part of the proposed settlement, Pepsi has agreed to ensure its caramel coloring's 4-Mel levels do not exceed 100 parts per billion in products that are being shipped for sale within the U.S. They will also be required to test the soda using specific protocols.
This is what social media users saw:
By claiming that Pepsi admitted its drinks contain cancer-causing ingredients, the stories are false. The lawsuit settlement clearly states the company made no such admission. See page four of the 15-page agreement here. The section titled "No Admissions" reads:
By executing this Consent Judgment and agreeing to provide the relief and remedies specified herein, [PepsiCo] does not admit (a) that it has violated, or threatened to violate Proposition 65 ... or any other law or legal duty; or (b) that the chemical 4-MEI in [their colas] or in other foods or beverages poses any risk to human health or requires any disclosure or warning to consumers.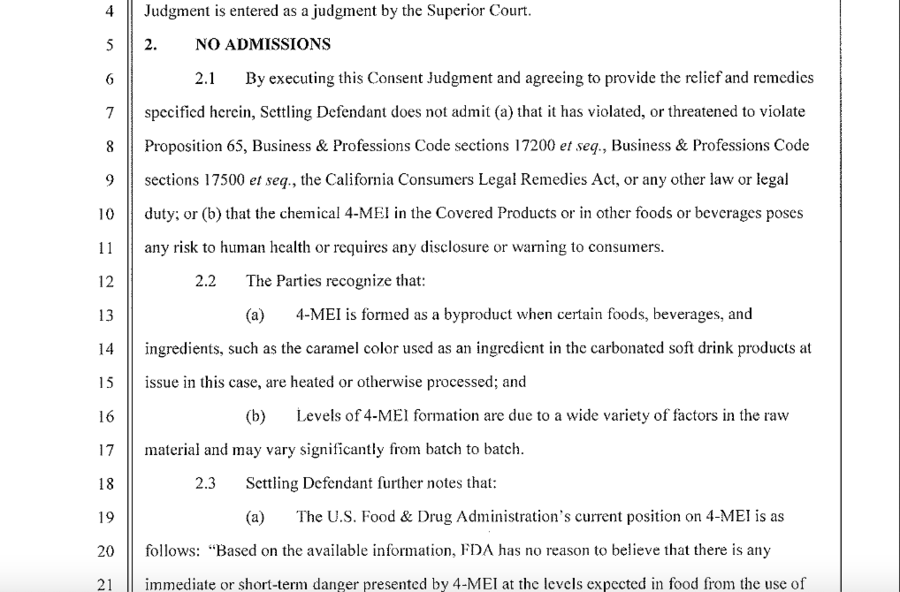 Pepsi and Coca-Cola had previously agreed with the state of California to change its production process that created the small levels of the disputed chemical as a byproduct. U.S. Federal guidelines did not consider the chemical as a cancer threat, but California has much tougher standards.