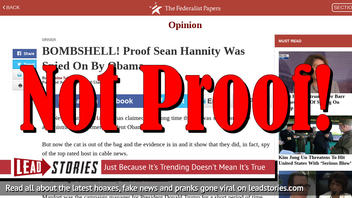 Was the release of Paul Manafort's text messages with Sean Hannity proof that the FOX News host was spied on by President Obama? No, that's not true: The texting transcripts released under a court order were collected during the Trump administration, not during the Obama years, and do not serve as any evidence -- much less proof -- of Obama spying on Hannity.
The story originated from an article published by The Federalist Papers on June 22, 2019 titled "BOMBSHELL! Proof Sean Hannity Was Spied On By Obama" (archived here) which opened:
Fox News host Sean Hannity has claimed for a long time that he was spied on by the administration of former President Obama.

But now the cat is out of the bag and the evidence is in and it show that they did, in fact, spy of the top rated host in cable news.

U.S. District Judge Amy Berman Jackson unsealed text messages on Friday that contained text messages between Hannity and Paul Manafort.
Users on social media only saw this title, description and thumbnail:
Breaking.
The text exchanges were not collected during a spying operation by Obama's administration, but by Justice Department prosecutors working during the Trump administration as part of the investigation of former Trump campaign chairman Paul Manafort. The messages were exchanged months after Obama left office, according to CNN.
The texts were released along with the transcript of an April hearing where Judge Amy Berman Jackson was considering whether Manafort or his attorney Kevin Downing had violated a gag order through the communications.
The Federalist Papers article acknowledges this, but it still makes an unsupported claim that the timing doesn't matter because "many believe" it is true:
The documents were obtained after President Obama was no longer president but many believe, with reason, that he was behind the attempt to take down President Trump.
NewsGuard, a company that uses trained journalist to rank the reliability of websites, describes thefederalistpapers.org as:
A website covering American politics and cultural issues. TheFederalistPapers.org's stories often make opinionated claims that are not supported by facts and are often not labeled as opinion.
According to NewsGuard the site does not maintain basic standards of accuracy and accountability. Read their full assessment here.