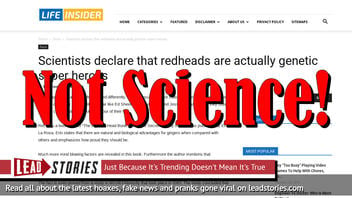 Did scientists declare that redheads are actually genetic super heroes because of their pain tolerance compared to people with other hair colors? No, that's not true: This is a click-bait headline using a false interpretation of scientific studies about the pain tolerance and surgical anesthesia requirements for patients with red hair. Scientists identified weaknesses common to people with red hair, as well as strengths, none of which are traits of a super hero.
The story originated from an article (archived here) where it was published by LifeInsider.me on January 12, 2019 under the title "Scientists declare that redheads are actually genetic super heroes". It opened:
Nowadays; redheads are often treated differently. Society insults them or calls them sexy. By the way there number of popular people with red hair like Ed Sheeran, Prince Harry and Jessica Chastain and they often get in to conversations about the colour of their hair.

Recently a book named "The Big Red Head Book: Inside the Secret Society of Red" was published by Erin La Rosa. Erin states that there are natural and biological advantages for gingers when compared with others and emphasizes how proud they should be.

Much more mind blowing factors are revealed in this book. Furthermore the author mentions that Redheads are the real unicorns on earth and they are blessed with the ability to bear up shock and pain than others due to their MCIR gene mutation which is also the cause for their red colour.
This is what social media users see:
The author of the book referenced as the main source for the claim is a fiction writer by education, not a scientist.
Erin La Rosa received an MA in writing from the University of Southern California and a BA in fiction from Emerson College. She's had fiction published on MadAtoms and Storychord, and is currently working on a romance novel.
The article does reference two scientific studies:
The fact is even proved from a study in McGill University that took place in 2003. The study concluded that red heads are 25% more resilient when compared with people with other hair colours.

Even the researchers from University of Louisville confirmed that redheads acquire 25% more general anesthesia (approximately) in case of a surgery which reflects their strength.

Red Heads were declared to be more temperature sensitive and the first to sense the seasonal changes by a study conducted in 2005 by the same university. Due to the MCIR gene mutation they have the capability of producing more vitamin in a short time; hence acquire less vitamin D.

So its crystal clear why you should be proud of your red hair.
Lead Stories found a McGill University study titled "Redheads and Pain" from 2010 by Professor Jeffrey Mogil, who holds the school's Canada Research Chair in Genetics of Pain. Mogil noted that most red-headed people have a recessive version of the MC1R gene, which he found had implications with the tolerance of pain, but he did not conclude -- as the false story claimed -- that "red heads are 25% more resilient when compared with people with other hair colours."
The MC1R gene coding for the melanocortin-1 receptor (MC1R) is highly polymorphic in humans, and inheritance of certain allelic variants of this gene is associated with a visible phenotype in Caucasians: red hair and fair skin. However, the MC1R gene is proving to be considerably pleiotropic, having demonstrated roles as well in cancer susceptibility, inflammation, and fever. This review summarizes the evidence that. MC1R also plays a surprising role in pain, pain inhibition (analgesia), and anesthesia.
Increased susceptibility to cancer is not super hero trait. His study is hardly a "declaration" that they are genetically superior.
Lead Stories corresponded with the scientist behind the University of Louisville study referenced in this story. Dr. Daniel Sessler agreed it was an inaccurate interpretation of the science:
The story seems a bit confused. The McGill group reported reduced pain sensitivity in redheads, but under special circumstances. Our work show that redheads are more sensitive to pain that people with other hair colors which is why they require more anesthesia.

I wouldn't say that these observations are so much good or bad, as a 'fact of life.' But the general theme that redheads are different is correct. Red hair is not on the blonde-brown-black axis, and instead results from a mutation of the melanocortin receptors.

An interesting fact is that all Neanderthals were redheads
Suggesting redheads are descendants of Neanderthals (defined in one dictionary as "an uncivilized, unintelligent, or uncouth person") is not the same as calling them a super hero.