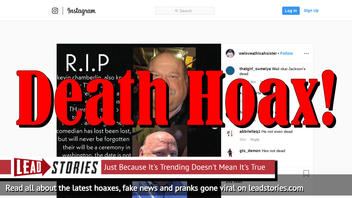 Did actor Kevin Chamberlin pass away following a cardiac arrest? No, that's not true: rumors of his death are circulating on social media but he took to twitter himself to reassure everyone he did not die.
A post has been circulating in the form of an image with following text:
R.I.P.

kevin chamberlin, also known as a TV actor has unfortunately PASSES away in this present... his cause of DEATH was in his sleep due to cardia carrest. another amazing disney comedian has lost been lost, but will never be forgotten their will be a ceremony in washington, the date is not going to get publicly announced until further noticed.
An example of the image can be seen in this Instagram post (archived here):
This is the image in question: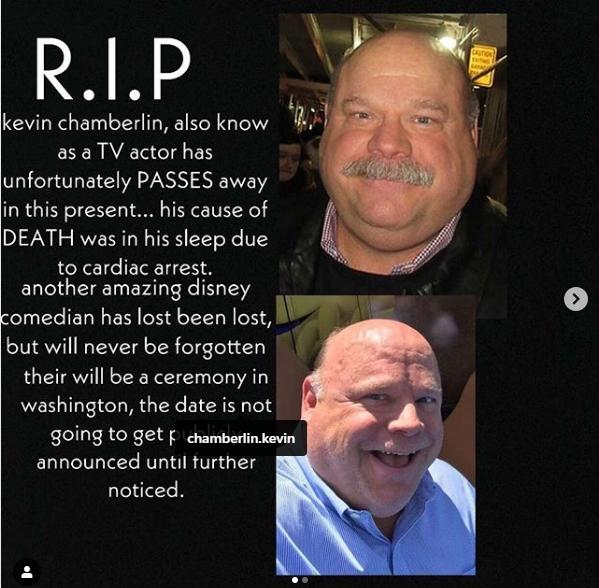 If the many spelling and grammar mistakes didn't tip you off the message did not come from any real news outlet then here is Kevin Chamberlin himself denying rumors of his own demise:
Contrary to rumors, [email protected] and well and teaching at Kristin Chenoweth's Broadway Boot Camp in Broken Arrow, Oklahoma! #kcbbc19 https://t.co/PdcToN7XiO

-- Kevin Chamberlin (@kevinchamberlin) June 15, 2019
When seeing posts about celebrity deaths on social media, always check major news sites first to confirm before sharing! You might end up saving fans a lot of grief.