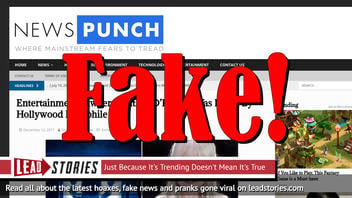 Did an entertainment lawyer say that Poltergeist child star Heather O'Rourke was killed by a Hollywood pedophile ring? No, that's not true: It is a false claim based on a "blind item" entry on a gossip site that acknowledges its content could be fictional. The purported circumstances of the alleged actress murder given in the story do not match the documented circumstances of O'Rourke's death.
The story originated from an article (archived here) where it was published by NewsPunch.com on December 12, 2017 -- but was widely shared again in July 2019 -- under the title "Entertainment Lawyer: Heather O'Rourke Was Killed By Hollywood Pedophile Ring". It opened:
A prominent Hollywood entertainment lawyer claims that Poltergeist child star Heather O'Rourke was raped and murdered by Hollywood executives.

Heather played the character Carol-Anna Freeling in all three of Steven Spielberg's Poltergeist films. She died in 1988 at the age of 12 from intestinal stenosis - a severe bowel obstruction. In an interview with Hollywood gossip website Crazy Days & Nights, an entertainment lawyer claims that Heather was anally raped on the set of a TV show called 'Rocky Road' which led to her untimely death.
This is what social media users saw:
The NewPunch article is based on another article that is based on the blind item. The intermediate article titled "Was Heather O'Rourke (of Poltergeist) Killed in a Pedogate Coverup?" opens:
With the recent allegations of sexual abuse coming out in Hollywood, Pedogate is seeming more and more real. I have been following this story with interest since the Wikileaks during last years elections with a mix of horror, belief and disbelief.

Whether this is a highly organized ring of pedophiles or just some bad apples is a hot debate but when you mix, money, power and international fame things tend to get messy.

I have a rather sad story to discuss today and this is the death of Heather O'Rourke, the little girl who played Carol-Anne Freeling in all three poltergeist films. Heather was also quite famous during the eighties as she had parts on multiple hit TV shows such as Webster and Happy Days.
The blind item was published on November 9, 2017 by CrazyDaysandNights.net, a longrunning Hollywood gossip site. It relates what another actress, who was "12 or 13" at the time of O'Rourke's death in 1988, purportedly said she witnessed on the set of a television sitcom. This account began with the claim that the soon-to-be-dead child actress was paraded on the stage while producers pleasured themselves:
They brought her out and the front four rows of this theatre were filled with guys who were already rubbing themselves. The girl was wearing a bikini. The show took place around a beach just so they could make these girls wear next to nothing. They had her walk around under the lights. The lights were focused on her and she couldn't really see out to the audience. She was squinting. It must have been blinding for her. They had her walk back and forth. Then they had her start dancing.
The killing allegedly happened when "three of the guys took her to a different area of the studio."
The actress didn't see what happened, but about 45 minutes later, one of those three guys came running out and needed a set medic. Apparently they had inserted something inside the girl and things were bad. The medic came and the ambulance came. The parents of the girl were told some crap story. That crap story ended up killing the girl because the parents believed the executives.
At the end, the identity of the actress was "revealed" as Heather O'Rourke. CrazyDaysAndNights.com makes it clear in a disclaimer that the blind items could be fiction:
CRAZY DAYS AND NIGHTS IS A GOSSIP SITE. THE SITE PUBLISHES RUMORS, CONJECTURE, AND FICTION. IN ADDITION TO ACCURATELY REPORTED INFORMATION, CERTAIN SITUATIONS, CHARACTERS AND EVENTS PORTRAYED IN THE BLOG ARE EITHER PRODUCTS OF THE AUTHOR'S IMAGINATION OR ARE USED FICTITIOUSLY. INFORMATION ON THIS SITE MAY CONTAIN ERRORS OR INACCURACIES
Here is why the original blind item could not be true and how the NewPunch rewrite of it is even more wrong.
Heather O'Rourke's death at the age of 12 is well-documented because of a medical malpractice lawsuit her parents filed against her doctors for misdiagnosing the condition blamed for her death. She died in Children's Hospital and Health Center in San Diego on February 1, 1988. People Magazine interviewed Heather's mother Kathleen O'Rourke Peele months later as she filed the lawsuit against the doctors. She said Heather was at home in Lakeside, California, the day before she died, not Hollywood, where the blind item claims Heather collapsed and died, 120 miles away. Her daughter woke up vomiting on Sunday, January 31, 1988:
During the day, Kathleen had Heather drink Gatorade, which Kaiser doctors had recommended as a stomach remedy. The next morning, Feb. 1, Heather got up and informed her mother she was going to school. "I told her, 'No, you're not!' " says Kathleen, who tried feeding her some toast. "She said, 'I can't even swallow.' Then I noticed her fingers and toes were blue, and she started to breathe real heavy, kind of fast. And her stomach was distended. I called our local doctor and his office said, 'Bring her right in.' About 20 seconds later she fell on the floor. That's when I called the paramedics."
Heather was conscious when paramedics arrived, her mother told People Magazine:
When one asked her if she was feeling bad, she said, "A little." On the way to the ambulance Kathleen says she told Heather, "I love you," and Heather replied, "I love you, too." They were the last words mother and daughter exchanged.
She was rushed by ambulance to an El Cajon hospital 10 minutes from her home, where the head nurse said she was "technically dead" on arrival. She was then helicoptered to the San Diego hospital where doctors did an exploratory operation that revealed an obstructed bowel just before she was pronounced dead. Her parents sued the doctors who had earlier misdiagnosed Heather with Crohn's disease, missing the bowel blockage that they contend should have been noticed in radiographic images.
The NewsPunch article suggested that Heather was "anally raped" and killed while working on the show "Rocky Road." But production on that show was already canceled before her February 1, 1988 death. O'Rourke appeared in a single 1987 episode, according to IMDB.com.
Finally, the NewsPunch headline cites an "entertainment lawyer" as the source. It was referencing the writer of the fake blind item, who has purported to be a lawyer who started blogging because he was bored at his office.
NewsPunch (formerly YourNewsWire) has published several hoaxes and fake news articles in the past so anything they write or publish should be taken with a large grain of salt. Their Facebook page "The People's Voice" even lost its verification checkmark according to a report from MMFA.
The Terms of Use of the site (archived here, still referencing YourNewsWire) also make it clear they don't really stand behind the accuracy of any of their reporting:
THE PEOPLE'S VOICE, INC. AND/OR ITS SUPPLIERS MAKE NO REPRESENTATIONS ABOUT THE SUITABILITY, RELIABILITY, AVAILABILITY, TIMELINESS, AND ACCURACY OF THE INFORMATION, SOFTWARE, PRODUCTS, SERVICES AND RELATED GRAPHICS CONTAINED ON THE SITE FOR ANY PURPOSE.
The site was profiled in the Hollywood reporter where it was described as:
Your News Wire, a 3-year-old website of murky facts and slippery spin, is published by Sean Adl-Tabatabai and Sinclair Treadway -- a Bernie Sanders supporter in 2016 -- out of an apartment in L.A.'s historic El Royale.
RationalWiki described it as:
YourNewsWire (styled as YourNewsWire.com[1]) is an Los Angeles-based clickbait fake news website known for disseminating conspiracy theories and misleading information, contrary to its claimed motto ("News. Truth. Unfiltered").[1]
A while ago we reported that YourNewsWire had rebranded itself as NewsPunch by changing its domain name in an apparent effort to evade filtering/blocking.