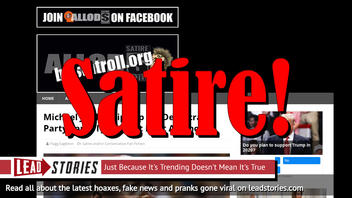 Did Michael Jordan rip up his Democrat Party Card, saying 'I Just Can't Do It Anymore'? No, that's not true. The story was published by a liberal satire website that often fools Trump supporters and Republicans into sharing made up stories that are clearly marked as satire when you actually click through to them. Stories from the site are frequently copied by foreign-run fake news websites. It is quite ironic that the people liking and sharing these stories are helping foreign website operators or a liberal from Maine make money through advertising.
The story originated from an article (archived here) where it was published on February 26, 2019 under the title "Michael Jordan Rips Up His Democrat Party Card: 'I Just Can't Do It Anymore'". It opened:
Michael Jordan has been moving to the right for years. During his years as a basketball player from North Carolina playing in Chicago, it was easier for Jordan to embrace his liberal upbringing.

All that changed, however, when Jordan decided he'd become a team owner, buying the Chicago Bulls for nearly $700 million, and an entrepreneur in the shoe business, selling the patented anti-gravity liquid that makes Air Jordan's so special to none other than Nike.

Unfortunately for them, after they decided to sign Colin Kaepernick to a deal, Mr. Jordan couldn't stand it any longer and took his patent to New Balance.
The story was published in the category "Satire and/or Conservative Fan Fiction". Jordan is not the owner of the Chicago Bulls, that would be billionaire Jerry Reinsdorf:
Jerry Reinsdorf - #1425 Billionaires
And of course there is no "patented anti-gravity liquid" and the rest of the story is made up too.
It is not clear if Jordan actually has a "Democrat Party Card" but for Jordan's actual political views, see here:
Is Michael Jordan a Republican or Democrat? Although Jordan notoriously keeps his politics to himself, you can see the clues below, and the money trail provides the big reveal: He has donated money to Democratic leadership organizations over the years.
But the BustaTroll.org story is definitely fake. The site is part of the "America's Last Line of Defense" network of satire websites run byself-professed liberal troll Christopher Blair from Maine along with a loose confederation of friends and allies. Blair has been in a feud with fact checking website Snopes for some time now and has also criticized other fact checkers in the past who labeled his work "fake news" instead of satire. In reaction to this he has recently rebranded all his active websites and Facebook pages so they carry extremely visible disclaimers everywhere.
Every site in the network has an about page that reads (in part):
About Satire
Before you complain and decide satire is synonymous with "comedy":

sat·ire
ˈsaˌtī(ə)r
noun
The use of humor, irony, exaggeration, or ridicule to expose and criticize people's stupidity or vices, particularly in the context of contemporary politics and other topical issues.

Everything on this website is fiction. It is not a lie and it is not fake news because it is not real. If you believe that it is real, you should have your head examined. Any similarities between this site's pure fantasy and actual people, places, and events are purely coincidental and all images should be considered altered and satirical. See above if you're still having an issue with that satire thing.
Articles from Blair's sites frequently get copied by "real" fake news sites who often omit the satire disclaimer and any other hints the stories are fake. Blair has tried to get these sites shut down in the past but new ones keep cropping up.
Blair and his operation were profiled by the Washington Post on November 17, 2018 by Eli Saslow:
November 17 The only light in the house came from the glow of three computer monitors, and Christopher Blair, 46, sat down at a keyboard and started to type. His wife had left for work and his children were on their way to school, but waiting online was his other community, an unreality where nothing was exactly as it seemed.
If you are interested in learning more about Blair and the history of his sites, here is something to get you started:
STORY UPDATED: check for updates below. Yesterday Eli Saslow at the Washington Post wrote a fantastic article about Christopher Blair, a man from Maine who has been trolling conservatives and Trump supporters online for years and occasionally even made a living out of it.
If you see one of his stories on a site that does not contain a satire disclaimer, assume it is fake news. If you do see the satire disclaimer it is of course also fake news.