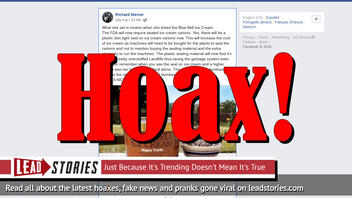 Is the FDA now requiring ice cream cartons be sealed in plastic in response to the arrest of a teenager for opening a Blue Bell container, licking it, and putting it back on a store shelf? No, that's not true: A spokesman for the U.S. government's Food and Drug Administration told Lead Stories that the agency has not imposed a new rule for ice cream packaging and none is under discussion.
The false claim originated from a post (archived here) published on July 4, 2019 under the title "See what a stupid teenager and her parents caused?!". It read:
What she set in motion when she licked the Blue Bell Ice Cream.
The FDA will now require sealed ice cream cartons. Yes, there will be a plastic skin tight seal on ice cream cartons now. This will increase the cost of ice cream as machines will need to be bought for the plants to seal the cartons and not to mention buying the sealing material and the extra electricity to run the machines. The plastic sealing material will now find it's way to already overstuffed Landfills thus taxing the garbage system even more. So remember when you see the seal on ice cream and a higher price it was her fault and her fault alone. This is what being a dumbass does to the rest of us that are not dumbasses.
HAVE A NICE DAY !
This what one version of the post looked like on social media:
The controversy began with a video posted on social media on June 29, 2019 that shows a young woman licking an opened container of Blue Bell's Tin Roof ice cream, replacing the lid, and then putting the half-gallon container back on the refridgerated shelf. That video in that one tweet had been viewed more than 13 million times by July 12, 2019.
Um. As a Brenham-ite, I'm upset at the disrespect for Blue Bell. As a human... wtf is wrong with her? pic.twitter.com/JFI0FR5VmJ

-- Jessica Fletcher (@heckyessica) June 29, 2019
Blue Bell later said it had traced the carton to a Walmart in Lufkin, Texas. Local police also said they identified the person licking the ice cream as a juvenile from San Antonio. Under Texas law, they cannot make her name public, but they said her case had been turned over to the Texas Juvenile Justice Department.
Blue Bell's manufacturing process does not include a plastic shield on top of the ice cream, which raised concerns among some consumers. This opened the door for the hoax post on July 4, the day many Americans are enjoying picnics, including lots of ice cream. But the post claiming the FDA took quick action to impose new rules on ice cream makers is inaccurate.
FDA spokesman Peter Casell told Lead Stories that while the agency has strict packaging requirements for medical products, it does not impose them for food. The Texas ice cream licking incident has not changed that:
It's a matter for local law enforcement and it happened at one retail location. As far as I know, there is no discussion about changes.
This claim is false.