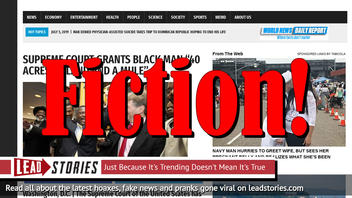 Did the U.S. Supreme Court grant a black man named Abraham Brown "40 acres of land and a mule" to fullfull a promise made by General William Tecumseh Sherman in a special field order during the U.S. Civil War? No, that's not true: the story was made up by a Canadian entertainment website that makes a living by publishing fictional stories often involving weird crimes, bizarre sex acts or strange accidents. It is not real, even though the story is based on certain historical facts.
The story originated from an article (archived here) where it was published on December 16, 2015 under the title "Supreme Court grants black man '40 acres of land and a mule'". It opened:
Washington, D.C. | The Supreme Court of the United States has granted to the Georgian slave descendant, Abraham Brown, "40 acres of land and a mule", in a historic decision that could affect thousands of African Americans.

The 61-year old man filed a lawsuit against the federal government in 2011, accusing the United States of violating their obligations to his ancestor, who died in 1891.

His great-grandfather, Elijah Brown, along with 18,000 other freed slaves who had fought for the Union in the American Civil War, had been promised "40 acres of land and a mule" by the U.S. army in 1865, but never received anything.

By a narrow 5-4 vote, the Supreme court ruled that the U.S. government had to hold the promises made to these 18,000 freed slaves, by granting the promised acreage and animals to their descendants.
The man pictured in the story is Rickey Dale Wyatt, who was imprisoned for 31 years for a rape he did not commit and who sued the people responsible for his false conviction back in 2014:
But an apology only goes so far, which is why on Thursday Wyatt sued everyone who put him in prison and worked to keep him there for more than half his life.
He did not get forty acres and a mule from the U.S. Supreme Court. The Supreme Court part of the story and Abraham Brown are completely made up.
The part about freed slaves being promised 40 acres of land and a mule in the U.S. in 1865 is rooted in actual historical fact though, as you can read here on PBS:
We've all heard the story of the "40 acres and a mule" promise to former slaves. It's a staple of black history lessons, and it's the name of Spike Lee's film company. The promise was the first systematic attempt to provide a form of reparations to newly freed slaves, and it was astonishingly radical for its time, proto-socialist in its implications.
But the website World News Daily Report is a humor website specialized in posting hoaxes and made up stories. The disclaimer on their website is pretty clear about that even though you have to scroll all the way down the page to find it:
World News Daily Report assumes all responsibility for the satirical nature of its articles and for the fictional nature of their content. All characters appearing in the articles in this website - even those based on real people - are entirely fictional and any resemblance between them and any person, living, dead or undead, is purely a miracle.
On March 20, 2019 the site added a new header that included the slogan "Where facts don't matter" to make it clearer to casual visitors the published content is fictional:

The site often uses images stolen without attribution from real news websites, sometimes showing real people who have nothing to do with the story, for example here:
It is run by Janick Murray-Hall and Olivier Legault, who also run the satirical Journal de Mourréal, a satirical site spoofing the (real) Journal de Montéal. Very often their stories feature an image showing a random crazy mugshot found in a mugshot gallery on the internet or on a stock photo website superimposed over a background of flashing police lights or crime scene tape.
Articles from the site are frequently copied (sometimes even months or years later) by varous fake news websites that omit the satire disclaimer and present the information as real.