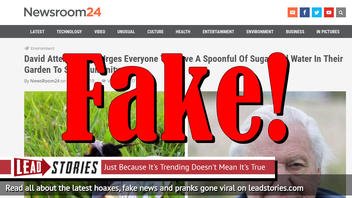 Did British broadcaster David Attenborough urge everyone to leave a spoonful of sugar and water in their garden to save bees and humanity? No, that's not true: It is a made up quote that the BBC has demanded be retracted as it could result in harm to bees. While the advice was purportedly intended to help struggling bees, experts warn that spoon feeding sugar to bees can actually reduce pollination, which is essential to the world's food supply.
The story originated from an article (archived here) published on July 4, 2018 under the title "David Attenborough Urges Everyone To Leave A Spoonful Of Sugar And Water In Their Garden To Save Humanity". It opened:
Bees are often seen as one of humanity's biggest enemies, and yet they help to keep us alive. You don't have to be a tree hugger to respect the environment that you live in.

For two million years, before the agricultural revolution, humans foraged the land and brought thousands of species of animals to extinction. We can say that millions of years ago we didn't know better, but now we do.

Bees are pollinators, and without them, we wouldn't be alive. They are responsible for feeding 90% of the world's population. David Attenborough, the voice behind The Blue Planet and Planet Earth, warns "if bees were to disappear from the face of the Earth, humans would have just four years to live."
This is one example of what social media users saw:
The story falsely claimed that Attenborough, host of the BBC nature series "The Blue Planet" and "Planet Earth," posted a "heartfelt Instagram post" in which he warned that "in the last five years, the bee population has dropped by 1/3." The story read:
David Attenborough says by leaving a teaspoon of sugar and water in your garden or lawn, you can help to re-hydrate them when they're tired.

"This time of year bees can often look like they are dying or dead, however, they're far from it. Bees can become tired and they simply don't have enough energy to return to the hive which can often result in being swept away. If you find a tired bee in your home, a simple solution of sugar and water will help revive an exhausted bee. Simply mix two tablespoons of white, granulated sugar with one tablespoon of water, and place on a spoon for the bee to reach."
A fake Attenborough post on social media on June 6, 2018, appeared to be the inspiration for this and other misguided articles.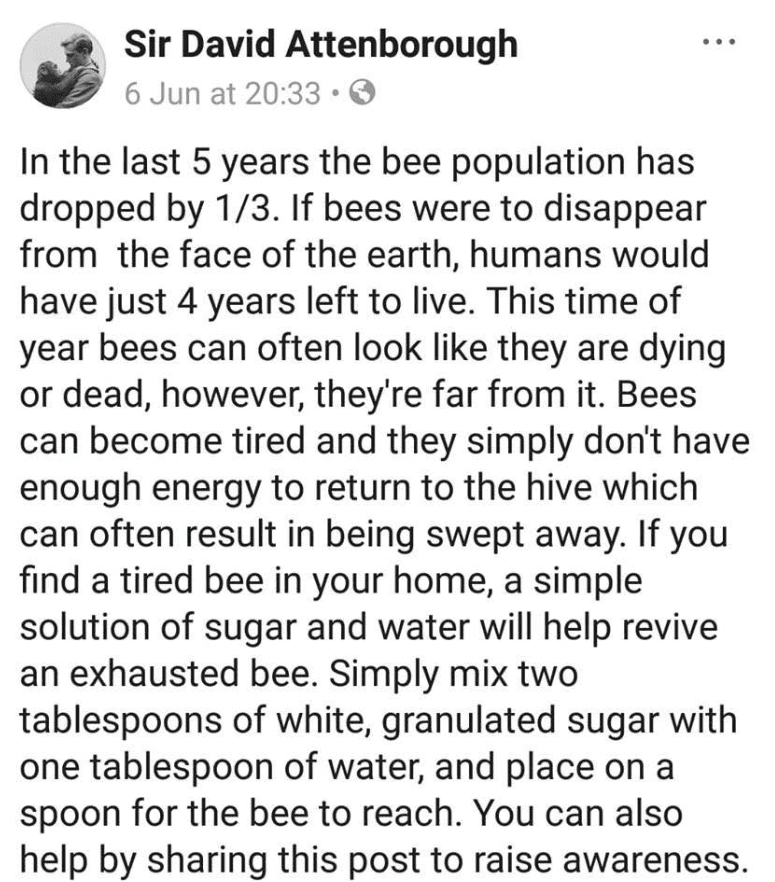 The BBC insisted the post was not from the 93-year-old Attenborough and asked Facebook to remove it, according to the Telegraph newspaper:
"It's a nice thing to do and it makes people feel good about themselves," said a spokesperson, "But it's only a short term solution for a bee. You're giving it a sugar buzz, but what they really need is nectar.

"What people can do to help is plant flowers that flower all year round. We would not advise leaving out sugar and water as bees will go to this rather than a flower because it is easier and then flowers are not being pollinated."

The BBC confirmed that the original post had nothing to do with Sir David and they had requested that the post be removed from Facebook.
Professional beekeepers were immediately suspicious and sounded the alarm, including this one in Australia who warned his Facebook friends in this post:
This bad nature advice was followed and shared by well-intentioned people around the world who know there is a real crisis as the global population of bees is declining. A July 9, 2019 report by ABC News delivered a disturbing update:
Between Oct. 1, 2018, and April 1, 2019, 37.7% of the managed honey bee population -- colonies kept by commercial beekeepers -- declined, 7 percentage points lower than the same time frame during the 2017-2018 winter, according to preliminary data from the Bee Informed Partnership, a nonprofit associated with the University of Maryland.

This past winter season represents the highest level of winter losses reported since the survey began in 2006, according to the report.

For the entire year -- April 1, 2018, to April 1, 2019 -- the managed bee population decreased by 40.7%, according to the report. The overall loss rate is around the average of what researchers and beekeepers have seen since 2006, McArt said.