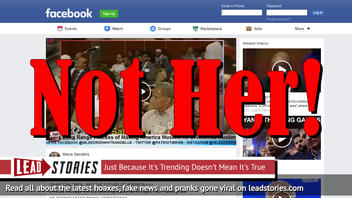 Was a video labeled as a "1 minute message" discussing the "process of making America Muslim" from Rep. Rashida Tlaib, the freshman congresswoman from Michigan? No, that's not true: The clip is from a 19-minute-long speech delivered 30 years ago by a now-deceased American writer to a Washington conference broadcast by C-Span. Tlaib was just 13 years old and living in Detroit, Michigan, at the time.
The video remained largely unseen in C-Span archives for three decades until it was shared on Facebook in early 2019 with the false claim that it was the newly-elected Rep. Tlaib. It has been repeatedly shared, including in a post (archived here) published on July 25, 2019 under the title "1 minute message from CONGRESSWOMAN, Michigan Rep. Rashida Tlaib." The message along with the video read:
IF YOU HAVE THE COURAGE TO WATCH THIS ONE MINUTE VIDEO, YOU WILL NO LONGER BE CONFUSED ABOUT THE CURRENT CHALLENGE FACING YOU, YOUR CHILDREN, YOUR GRANDCHILDREN...AND THE FUTURE OF AMERICA>>>>



1 minute message from the new congresswoman Michigan, Rep. RashidaTlaib

WE BETTER START PAYING ATTENTION!!!!

Newly elected congresswoman from Michigan confirms their ultimate goal

*1 minute message from congresswoman Michigan, Rep. Rashida Tlaib*
*.*
*I would encourage everyone to forward this message to all their friends
who to let them know what is really going on!!!*
This is what social media users saw:
In the clip, the female speaker said:
Education is one of the most important areas that Muslims have to address, and while our objective, our final objective, is not just to become part of the system that we experience now and that we see, our objective, our final objective is to create our own Islamic systems, and not only create Islamic systems for Muslims but to look at all the other people who are sharing this country with us as potential Muslims. And if we look at them as potential Muslims, and feel that we have the obligation, which Allah has told us, to try to bring them into the same style of thinking and to the same way of behaving and to the same objectives that we have then we have to have some way to that we can communicate with them, and some way we can work with them. And in that long range process of making America Muslim, all of America Muslim, then we have to have some actual short range goals. We have to have some way of dealing with them and know how we're going to deal with them and in which ways and be very calculated about it or else we will not accomplish our goals.
The video became viral after 1970s rocker Ted Nugent, an icon among conservatives, posted the video on May 26, 2019 with the claim that it was Rep. Tlaib speaking: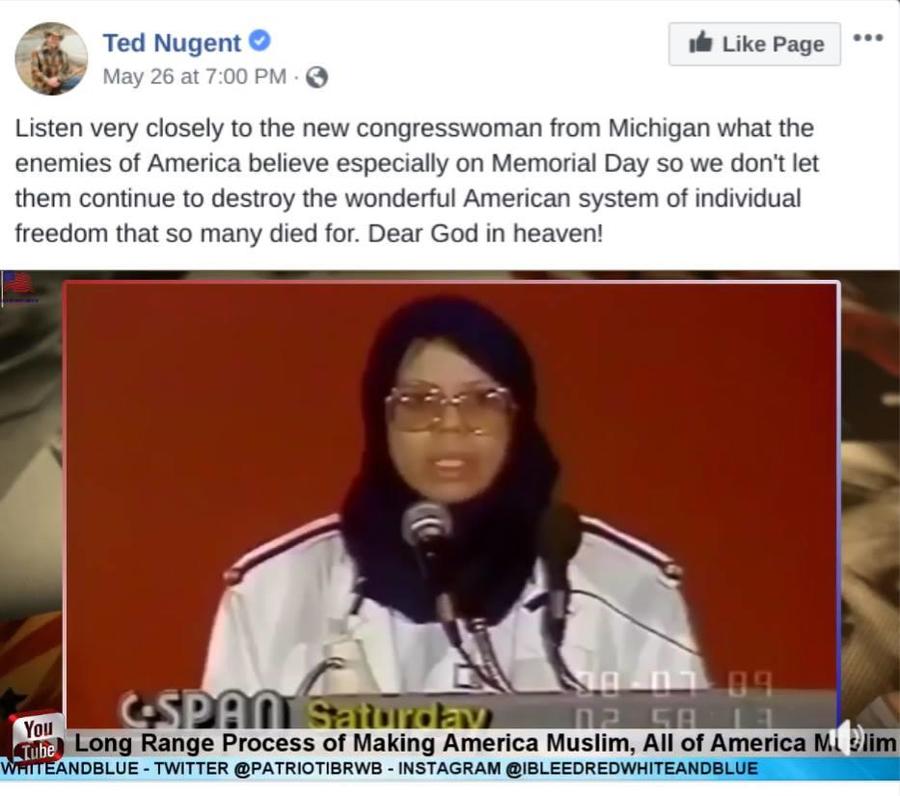 Nugent struck an alarming chord among conservative Christians who were shocked to hear that a member of the U.S. Congress was strategizing about a "long range process of making America Muslim."
Listen very closely to the new congresswoman from Michigan what the enemies of America believe especially on Memorial Day so we don't let them continue to destroy the wonderful American system of individual freedom that so many died for. Dear God in Heaven!
But Nugent was wrong. A look at the video itself made it immediately obvious that it was recorded on Saturday, August 7, 1989, by C-Span. It is clearly time-stamped. The woman, who wore a headscarf, did not look like the future congresswoman. In fact, Tlaib had just celebrated her 13th birthday weeks before this speech was delivered.
The speaker is actually Sharifa Alkhateeb, a writer born in Philadelphia in 1946 and who died of cancer in 2004. Her Washington Post obituary gives no clues that she was on a campaign to destroy America:
Mrs. Alkhateeb embraced both American and Islamic ways in her lifelong effort to bridge gaps between the two cultures. Often quoted in news reports about Muslim matters, particularly pertaining to women, she also advised schools, police departments, corporate directors, governmental agencies and textbook publishers on the nature of Islamic life.
Readers who want to better understand the context of her comment about "making America Muslim" can see the full speech to the Muslim Americans Political Awareness Conference at this C-Span link.