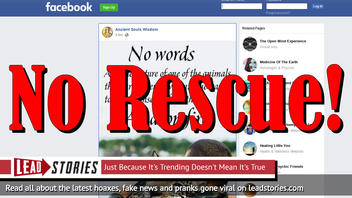 Did a Brazilian soldier rescue a jaguar after the animal threw itself into a river to save itself from the Amazon fires, as seen in a photograph? No, that's not true: The touching image of a jaguar being cuddled by a man wearing a Brazilian uniform was published in June 2016, more than three years before the Amazon animal rescue purportedly happened. The jaguar was a mascot of Brazil's Amazon military command, and not a wild animal being saved from the flames. The soldier and animal were playing in the water.
The deceptive use of the image is in a meme shared in across social platforms, including a post (archived here) on August 27, 2019. The text with the image read:
No words

A rescue picture of one of the animals that threw themselves into the water to save themselves from the

Amazon fire
This is what social media users saw:
Outrage over the fires in Brazil's Amazon has resulted in the spread of memes that use images not actually related to the current fires. In this case, the posters wanted to send the message that animals are suffering as their habitats are destroyed. Whoever created this meme must have been aware of the real story of the soldier and the jaguar, since it is clearly told on the Facebook page where it was lifted. This and other images of them were taken by Brazilian photographer None Mangueira on the Río Negro, in Manaus, capital of the state of Amazonas in Brazil in May 2016, according to the Associated Press.
The jaguar, named jiquitaia, was rescued by soldiers when his mother was killed by hunters -- not a fire. You can read about him in this story titled "THIS HEART WRENCHING STORY OF AN INJURED BABY JAGUAR HAS A SURPRISING ENDING" published in 2018.