STORY UPDATED: check for updates below.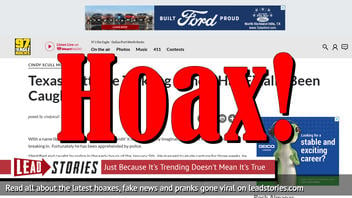 Was a suspect known as the "Texas Butthole Tickling Bandit" arrested in Dallas, Texas? No, that's not true: It is a completely made-up hoax with no official sources, attribution, or basis in reality. It was first published in 2015 on a satire site -- but was apparently deleted. Dozens of websites have since published versions of the story without satire labeling. Most have used the mugshot of an Oklahoma man who was arrested for making lewd comments to families in a grocery store parking lot in 2010.
One example is an article (archived here) published on the website of an iHeart radio station on March 8, 2017 under the title "Texas Butthole Tickling Bandit Has Finally Been Caught". It opened:
With a name like the 'Texas Butthole Tickling Bandit' it doesnt take any imagination to know what he does after breaking in. Fortunately he has been apprehended by police.

Identified and caught by police in the early hours of the January 5th,. He managd to elude capture for three weeks, he has given male residents in the area a real tough time with his spate of assaults, which totalled a dozen homes by the time he was stopped.

Police originally thought their suspect was homeless, however when they picked their man up he was actually wearing $4500 worth of Yeezus clothing
This is what social media users saw:
This is the image many versions of the fake story used: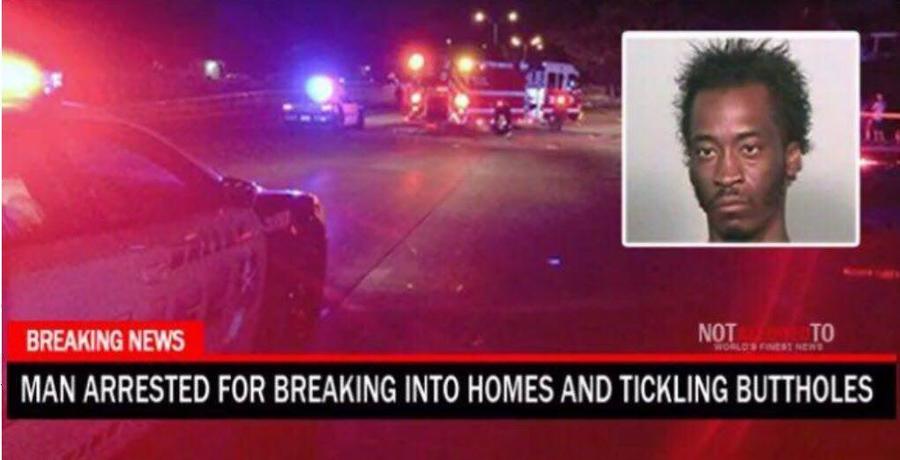 The mugshot in that image is not a suspect in the "Texas Butthole" case (from 2017 to 2019), but it is a suspect in an Oklahoma case in 2010. His name is Andre Lashun Holloway, and he was 33 years old in July 2010 when Oklahoma City police arrested him "on a complaint of lewd or indecent proposals to minors and two outstanding warrants but has not been formally charged in the incident," according to Oklahoman.com:
Officers were called to the Buy For Less at Northwest Expressway and Council Road about 7:35 p.m. Thursday when witnesses reported Holloway was in the parking lot approaching families, the report states. One witness said Holloway looked at her and said, "You're going to be in trouble when I rape your daughter," and that another man saw what was happening and told her Holloway made similar comments to him and his daughter.
None of the "Texas Butthole" stories name the suspect and they give very few details. Mostly, the articles just made fun of what would be serious sex assaults if real. The humor focuses on the fear of local men who were forced to sleep on their backs until the suspect was caught. Depending on which version you read, the alleged assaults and arrest happened in either 2016, 2017, 2018 or 2019.
2019-08-26T15:40:00Z

2019-08-26T15:40:00Z

Update 11:44aET Aug 26, 2019 -- adding this was first published in 2015 by a satire site, but then copied by other websites without satire disclaimers.